This post may contain affiliate links which won't change your price but will share some commission.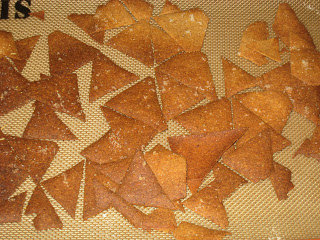 I'm always looking for new ways to use my sourdough starter. A while back I came across a recipe for sourdough crackers that I knew I had to try. We are out of homemade crackers right now. And I need some for our dinner tonight. So I finally gave these a try. I got the recipe from Kitchen Stewardship. They are super easy and taste great! One of the best parts is that the work is split up (so not much active time at one time) and you get a lot for a little work. The dough can make 4 batches of crackers. I made one batch this morning and froze 3 more balls of dough for whenever I need to make a new batch. It only took a few minutes to prep the dough yesterday evening. Then I made the crackers first thing this morning (before the house got hot :). I can't wait to have them with dinner tonight!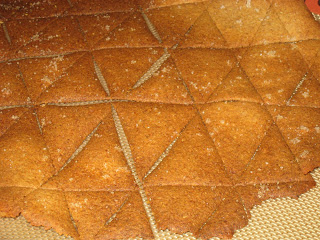 Whole Wheat Sourdough Crackers
1 cup "discarded" sourdough starter (I just used 1 cup of my starter…some people periodcially discard some (which this is referring to), but I don't)
1/4 cup room temperature lard from pastured pork (or coconut oil or softened butter) (I used coconut oil)
1 cup whole wheat or spelt flour, or as much as you need to make a stiff dough (I used freshly ground bulgur flour)
1/2 tsp. sea salt
Olive oil for brushing
Coarse salt (such as kosher salt) for sprinkling on top (I used fine sea salt and some dried rosemary and garlic powder on some of it)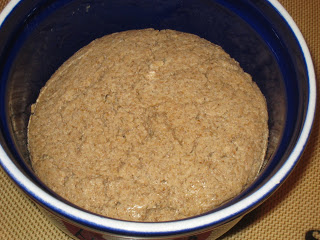 Step One:
In a large bowl, combine the sourdough and the lard and mix thoroughly. Mix the salt in with 1/4 cup flour and add to the sourdough mixture. Knead it all together in the bowl, adding as much flour as necessary to make a stiff dough. Cover the dough with plastic wrap or put a lid on the bowl to prevent it from drying out. Leave the dough at room temperature for at least seven hours.
Step Two:
Seven or more hours later, preheat the oven to 350 degrees Fahrenheit .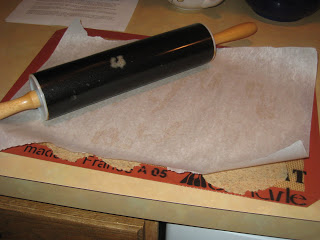 Take a small portion of the dough (about 1/4 cup) and roll it out on a Silpat or other nonstick baking mat using a rolling pin, until it is very thin. (I cut the dough into 4 parts…froze 3 and used one to make the crackers. I used the parchment paper on top method to roll the crackers so they wouldn't stick to the rolling pin. Worked really well.)
Pour a little bit of olive oil on the rolled out dough and spread it to the edges of the dough with a pastry brush or your hand. Sprinkle liberally with coarse salt. (or any other seasoning you like)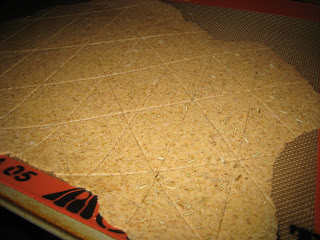 Cut the dough vertically and horizontally into quadrangles with a pizza cutter. Transfer the Silpat onto your baking sheet and bake for 15-20 minutes or until just golden brown. Repeat in batches. The crackers shrink a little bit in the oven, so when you pull out your baking sheet, they will already be separated and you don't have to try and transfer the delicate dough from one surface to another. (I baked mine for about 14 min., turned off the oven and let them crisp for another 5 min. or so.)
Additional notes: This dough freezes well and you can easily defrost one or two batches at a time so that you can have fresh crackers every day! Divide the dough into four equal portions, shape into balls and then freeze. It takes 1-2 hours for the dough to defrost. Then place it on your Silpat or baking stone and continue with the recipe.