This post may contain affiliate links which won't change your price but will share some commission.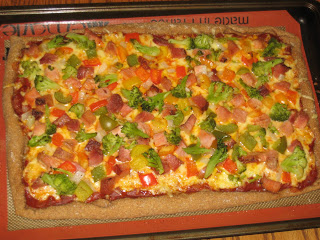 I'm always looking for new ways to use my sourdough. A while back I found a great recipe for sourdough pizza crust on Kitchen Stewardship. I've been wanting to try it for a while.
Since ham pizza is my daughter's favorite, and we have a bunch of good quality (nitrite/nitrate free) ham leftover from Christmas I figured it was a great time to try it.
How Did It Go?
The recipe is very easy to make. And you do all the dough prep ahead of time so that dinner time is easy. The end result…great!
I thought it was very good. The recipe made enough dough for one large rectangular pizza.
There were only a couple issues with our pizza. First, I forgot to buy mozzarella cheese…so ours had a combo of mild cheddar, marble and parmesan. It still tasted great.
Uh Oh!
The other thing is that the recipe says to put the dough on Silpat. Which I did. And it works great. But I left it on the Silpat…and my pizza cutter went through it. So that one had to go in the trash…and they're not cheap!
So do take the pizza off the Silpat before cutting. After that incident I put the pizza on a large wood cutting board. Worked well. Honestly I think it would work just fine to not even use a Silpat in the first place. You could put the dough right on the pan. You could dust the pan with cornmeal or use parchment paper.
Aside from that the pizza was really good. I thought it had a great texture…not too thin, not too thick. I will be making sourdough pizza again for sure.
Check out the full recipe at Kitchen Stewardship. I'll show the process below.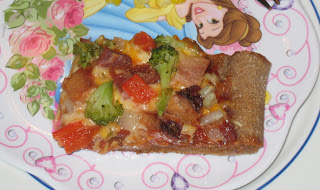 Sourdough Pizza
1 1/2 cups "discarded" sourdough starter (I just use my sd starter normally…I never discard anything.)
2 Tbsp. olive oil
3/4 tsp. salt
1 – 1 1/2 cups whole wheat flour (I used 3/4 cups ww, 1/4 cup rye and 1/2 cup sprouted ww…just what I had on hand)
—————–
sauce – I used my homeamde pizza sauce.
toppings – I used a combo of cheeses, ham, broccoli, peppers and sauteed onion.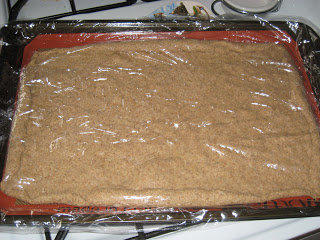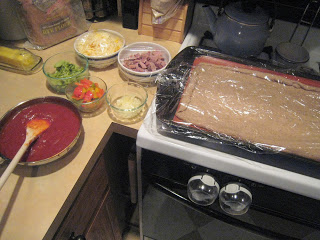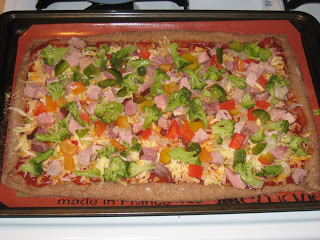 You can also freeze the pizza crusts after they have been par-baked and save them for future use.