This post may contain affiliate links which won't change your price but will share some commission.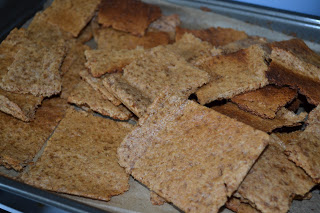 As I was making a fresh batch of soaked graham crackers this week I thought it might be fun to try making sourdough graham crackers. Rebecca and I set to work right away 🙂 I used this recipe as my base and adjusted it to use my sourdough starter.
The graham crackers turned out quite well. I think I made them a little too thin, so they are quite crispy. But still delicious. I also used all coconut oil (out of convenience…it's hot enough that it's already liquid…so I didn't have to add a step of melting anything 🙂 instead of all butter or a butter/coconut oil combo. I think using all coconut oil makes them a little more crumbly. Next time I'll use some butter. But if you can't have dairy using all coconut oil definitely works.
I love graham crackers. And this is another great, healthy variation. A perfect snack for kids or adults.
I wasn't able to get many photos…I had a little boy in my arms that had just woken up from a short nap 😛
This post is linked to Fat Tuesday and Real Food Wednesday and Fresh Bites Friday.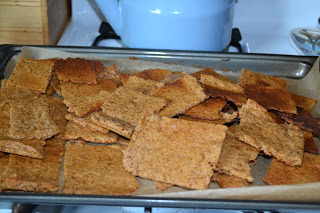 Sourdough Graham Crackers
1 1/2 cups whole wheat flour
3/4 cups sourdough starter
1/2 cup rapadura (dehydrated cane sugar)
1 tsp. baking powder
1/2 tsp. baking soda
1/2 tsp. salt
1 tsp. cinnamon
4 – 6 Tbsp. honey
1 tsp. vanilla
1 stick butter or 1/2 cup coconut oil, melted (Works very well to use half butter and half coconut oil)
Heat oven to 350. Melt butter/coconut oil in sauce pan. Set aside. In a mixing bowl, stir together flour, sugar, baking powder, baking soda, salt and cinnamon. Add the liquids: honey, sourdough, vanilla, butter. Stir well until a nice ball of dough is formed – not crumbly (if too dry add more butter/coconut oil or honey). Taste the dough for sweetness. Add a little rapadura or honey if the dough is too sour. It will get a little sweeter as you bake it.
Split dough into 2 equal parts. Cut 3 pieces of parchment paper the size of a cookie sheet. Lay one piece on table. Put 1/2 of dough on the paper. Lay a 2nd piece of parchment on top of dough. Squish the dough down a little with your hand. Use a rolling pin to roll the dough between the parchment paper. Roll until the dough until it is about 1/8 in. thick. Remove the top piece of parchment paper. Cut into squares (with pizza cutter). If the dough sticks to the pizza cutter wait until the crackers have been baking 5 – 8 minutes to cut them (pull them out, cut and put them back in). Place the dough on a baking sheet (on the parchment paper…just move the whole thing onto the baking sheet). Repeat for other half of dough.
Bake for 12-18 minutes, until the crackers are just barely turning golden. Let cool completely. Store in airtight container or in the freezer.