This post may contain affiliate links which won't change your price but will share some commission.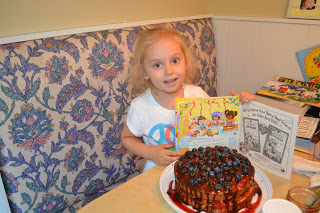 A couple years ago I got an old Strawberry Shortcake book at a second hand sale. It's called The Berrylicious Bake-off. Rebecca has always enjoyed reading it. And every time we say we should try making a cake like the one in the book…someday.
Well, yesterday we finally did it! We made "the berry best cake ever." We followed the steps in the book using what we had on hand.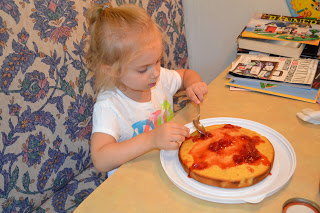 We started with my usual yellow cake, substituting orange juice for some of the milk to make orange cake. We topped it with homemade strawberry jam (from the freezer).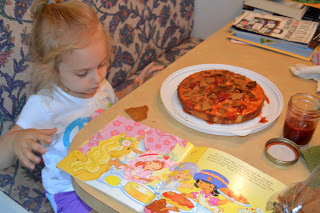 For our "crispy cookie layer" we used some of the sourdough graham crackers we just made. Instead of huckleberries we used fresh blueberries. Finally we topped it with our homemade fudge (good thing I made a fresh batch this week :).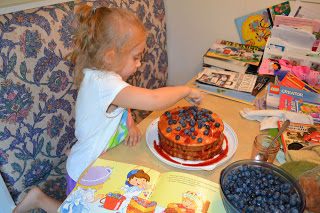 The end result? A berrylicious cake! It's delicious. Plus Rebecca had so much fun following along with the book and making the layers/adding toppings. We also just happened to be making vanilla ice cream yesterday. They went very well together.
This isn't so much a recipe post, but I wanted to share our fun experiment. If you want to make your own berrylicious cake, follow the steps below.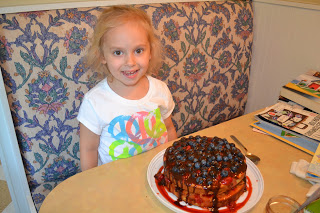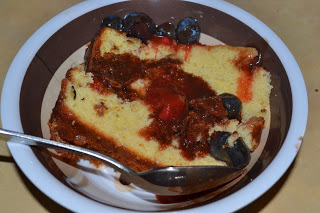 Berrylicious Cake
Orange Cake
2 1/4 cups organic AP flour
1 1/2 cup organic cane sugar
1/2 cup butter, softened
3 1/2 tsp. baking powder
1 tsp. sea salt
3/4 cups orange juice
1/4 cup milk
1 tsp. organic vanilla
3 eggs
1-2 cups crumbled sourdough graham crackers, soaked graham crackers, whole wheat graham crackers, vanilla wafers or any cookie you like (the book uses gingersnaps) (you could substitute chopped nuts for a crunchy layer)
1/2 pint homemade strawberry jam or crushed strawberries mixed with honey
1 cup fresh blueberries (or whatever berry you have on hand)
1/2 cup fudge sauce
Mix cake ingredients. Blend 30 seconds on low, then 3 minutes on high. Pour into 2 9″ round greased cake pans. Bake at 350 for about 30 minutes, until golden and baked all the way through. Allow the cake to cool completely.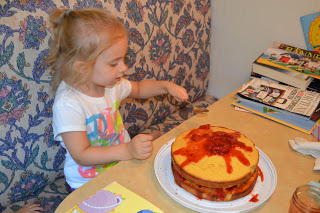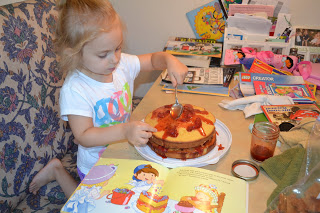 Place bottom layer of cake on a dish. Spread half of the jam on top. Sprinkle crumbled cookies over jam. Place top layer of cake on top. Spread with remaining half of jam. Sprinkle blueberries over jam. Drizzle fudge over the whole cake. Enjoy! It tastes great with homemade vanilla ice cream too 🙂
Store cake in the refrigerator.