This post may contain affiliate links which won't change your price but will share some commission.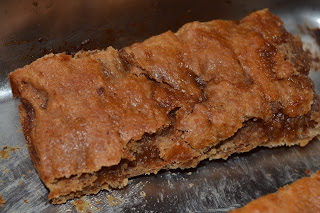 I've been doing lots of baking and experimenting this week. Today I came up with a soaked breakfast bar recipe. When I made a batch of soaked graham crackers earlier in the week I realized that the dough was pretty good before dehydrating it. It was soft and chewy. The best part? My 14 month old could eat it easily…and loved it!
I set aside a couple of the graham crackers to eat as-is instead of drying them. They reminded me of cereal bars. Lightbulb…use the same dough to make homemade breakfast bars!
I used my soaked graham cracker recipe. I put half of the dough in the bottom of a 9×13 pan, baked it a little, then topped it with homemade apple butter and the rest of the dough. I baked it again and cut it into bars.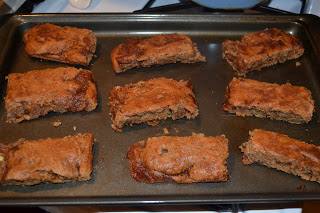 The verdict? Delicious!! A soft, chewy apple cinnamon breakfast bar. The grains are soaked, there are no vegetable oils, there is nothing processed. I feel good about giving these "cereal" bars to my whole family.
You can make them any flavor, depending on what kind of jam/butter you use. Or you can just make them plain bars without a filling. Either way they taste great. And they work really well for young children that are still learning how to chew. You can get really creative and fill them with things like nut butter, coconut, nuts, dried fruit or chocolate chips.
This is an easy grab-and-go breakfast. Make a batch. Freeze them. And you've got some on hand whenever you need something quick.
This post is linked to Fat Tuesday and Real Food Wednesday and Fresh Bites Friday.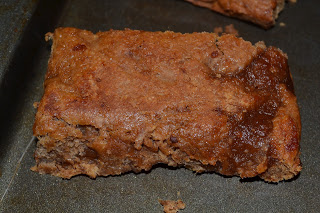 Soaked Breakfast Bar
2 cups whole wheat flour
1 cup kefir, yogurt or buttermilk
1/2 cup coconut oil or butter, melted (I used coconut oil)
1/2 cup rapadura/cane sugar
1 tsp. cinnamon
1 tsp. baking powder
1/2 tsp. baking soda
1/2 tsp. salt
6 Tbsp. honey
1/3 – 1/2 cup jelly, jam or fruit butter
Mix flour, cultured dairy and oil. Cover and let soak 7 – 24 hours.
Mix in remaining dough ingredients until well combined. Spread half of the dough into the bottom of a greased 9×13 pan. Bake at 350 for 10 minutes.
Remove from oven. Spread an even layer of jam on top of dough. Spread remaining dough on top. Bake at 350 for another 25 minutes.
Cut into bars. Place bars on a separate baking sheet, with space in between bars. Bake another 5-10 minutes, until dough is baked through. Allow to cool.