This post may contain affiliate links which won't change your price but will share some commission.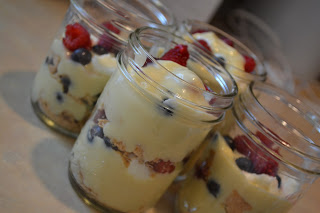 I made this dessert for the Fourth of July…but never got around to posting the recipe. Oops. This was a simple, fun treat that everyone enjoyed. Layers of vanilla pudding, graham crackers, sweetened cream cheese and fresh berries – delicious! A perfect holiday summer treat.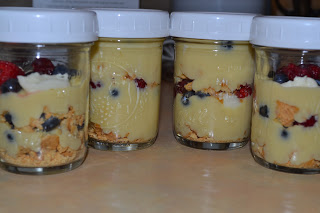 Red, White and Blue Parfait
Vanilla Pudding (from Heavenly Homemakers)
2 1/2 cups milk
3 egg yolks
1/2 cup real maple syrup (grade B is best for you) or honey
4 T. arrowroot powder (or organic corn starch)
1/4 tsp. sea salt
1 Tbsp. butter
1 tsp. vanilla
In a medium saucepan, whisk together milk, egg yolks, maple syrup, arrowroot powder and salt. Cook over medium heat, stirring CONSTANTLY until pudding begins to thicken. Stir over the heat for about 15 more seconds. Remove immediately from the heat, and continue to stir until pudding is creamy. Add butter and vanilla and continue to stir until mixed. Allow to cool at least 30 minutes. You can prep this ahead and keep it in the refrigerator.
2 cups yogurt
3-5 Tbsp. sweetener (honey, maple syrup, sucanat)
1 tsp. vanilla (optional)
Strain yogurt in cheesecloth to make cream cheese (do this ahead of time). Stir sweetener into cream chhese until it is to your liking.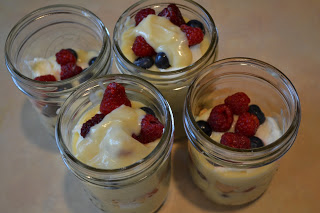 Parfait:
Crumble thin layer of graham crackers (organic store bought or whole wheat homemade, soaked homemade, sourdough or gluten free. Use gluten free grahams or cookies to make this gluten free.) into the bottom of small dishes or 1/2 pint mason jars. Layer pudding, then fruit, then cream cheese. Add another layer of graham crackers and repeat other layers. Repeat process until the jar is filled. Top with graham cracker crumbs and berries. Chill and serve.
I made a couple full jars, and I made a couple not quite so full for a kid's portion.