This post may contain affiliate links which won't change your price but will share some commission.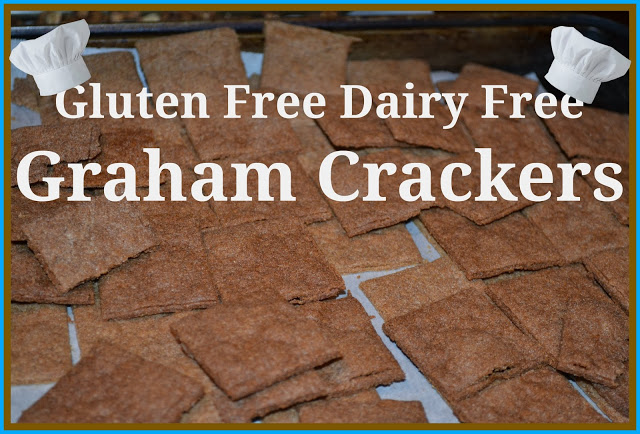 I've said it before and I'll say it again…I love graham crackers! They have been my go-to snack for many, many years. It's very rare that we don't have any in the house.
Last week we ran out of graham crackers. And it was perfect timing. I usually use butter to make graham crackers. And it wouldn't have been much fun telling my son he couldn't have them.
So I made a new batch that is gluten free, dairy free and rice free! I was quite surprised that I couldn't really tell a difference using all coconut oil instead of butter.
The kids still love them, and I do too! Graham crackers are a perfect mildly sweet treat for the whole family. Even if you have allergies.

One batch makes about 50 crackers, so they last quite a while. I fill a 1/2 gallon mason jar with crackers. And we've got a grab and go snack ready when we need it.
Gluten Free Graham Crackers
1 cup amaranth flour*
1/2 cup tapioca flour*
1/4 cup sorghum flour (can be replaced with amaranth)
1/4 cup teff flour* (can be replaced with sorghum or amaranth)
1/2 cup organic cane sugar or coconut sugar* (can reduce to 1/4 cup)
1/2 tsp. sea salt*
1/2 tsp. vanilla
6 Tbsp. liquid sweetener (honey, molasses and/or maple syrup…I like to use at least 2 Tbsp. of molasses to really get a graham flavor)
1/2 cup coconut oil, melted (this can be replaced with butter if you tolerate dairy)
Heat oven to 350 degrees F. Cut 3 pieces of parchment paper the size of a baking sheet.
Melt the oil. Set aside.
Mix the flours, sugar and salt. Add the vanilla, sweetener and the oil and mix until well combined (I do this with a spoon). The dough should hold together when squeezed. If it is crumbly add more honey.
Split the dough into 2 equal parts. Lay one piece of parchment paper on a table. Put 1/2 of the dough on the paper. Lay a 2nd piece of parchment on top of the dough. Squish the dough down a little with your hand. Use a rolling pin to roll the dough between the parchment paper. Roll the dough until your desired cracker thickness (1/4 – 1/8th" or so). Remove the top piece of parchment paper.
Cut into squares (with pizza cutter). Place on a baking sheet (on the parchment paper…just move the whole thing onto the baking sheet). Repeat for the other half of the dough.
Bake for 11-12 minutes**. Turn the oven off, but leave the crackers in to get crisp. Remove after 10 min. You can run the pizza cutter over the cut lines again to help separate the squares before the dough completely cools. Let cool completely. Store in airtight container or in the freezer.
**The crackers should be baked on the top oven rack. It works best to do one pan at a time to avoid burning.
*These are affiliate links. It will not change the cost for you if you buy through the link, but I will get a small commission. It helps me earn a small amount to keep putting in the time and effort to do what I do 🙂