This post may contain affiliate links which won't change your price but will share some commission.
Yesterday we got four fresh organic chickens from one of Justin's co-workers. I knew I'd have to cut them up myself, so before hand I did some research. A few months ago Kat posted a link on her blog to a video that gives good directions. So I watched that. It seemed pretty simple. And it was! Who knew. You can go to Kat's blog to get the link if you want to see the video. I'll give a very basic run down of how I did it. I only cut up 2 birds. The second one went a lot faster than the first. With a little practice you could probably do a whole chicken in 5-10 min. Be sure to use a good, sharp knife.
1. Cut off the wings, right at the joint. Then cut off the tip of the wing to use in stock. There really isn't any meat on it.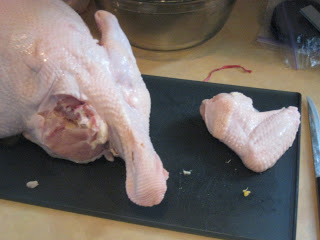 2. Cut off the legs. Start cutting around the drumstick. As you pull on it you'll see where the thigh is and just follow that along.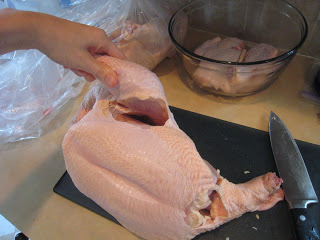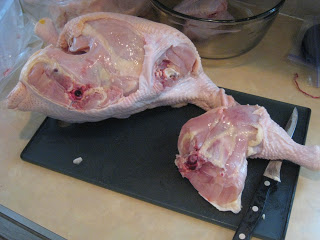 3. Separate the drumstick from the thigh. There is a natural line of fat at the top of the drumstick that you can use as a cutting guide.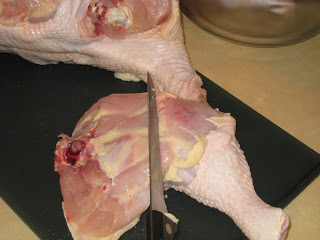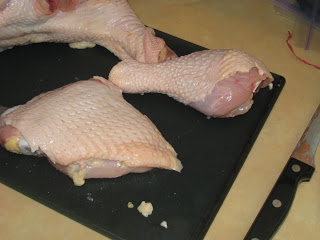 4. Cut off the breasts. Make a slit down the middle. And gradually cut as you pull the breast away from the bone (one on each side).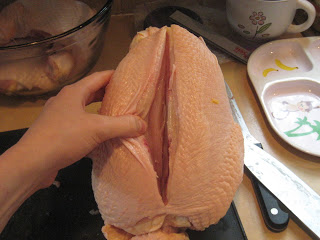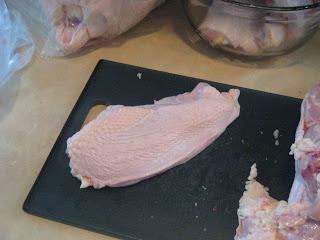 5. Remove the tender from the breast. You don't have to do this. But it's simple. The tender naturally pulls away.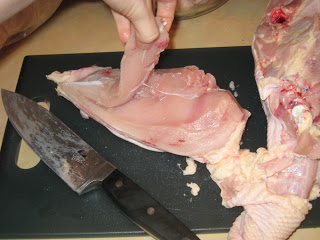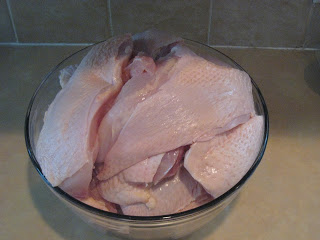 That's it. You can leave the skin on or remove it from any of the pieces. I left it on. Pretty simple. Maybe next year I'll be daring enough to order more chickens now that I know how easy it is. And if I can do it while nauseous anyone can do it 🙂  I vacuum sealed and froze all of the chicken after cutting it up. And I used all of the scraps for stock.