This post may contain affiliate links which won't change your price but will share some commission.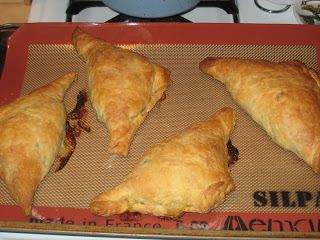 The other day Rebecca was talking about spinach pies. I have no idea where she even heard of them. We've never had them at home before. But it actually sounded good to me (rare these days that anything sounds good). And I remembered I had some puff pastry in the freezer (I know, not the healthiest, but not horrible when you eat it once or twice a year 😛  And right now I'll eat anything that I can stomach.). So I decided to come up with a spinach pie. I did a search for recipes. Pretty much every recipe I saw uses phyllo dough. And almost all of them use feta…which does not appeal to me (and may not be safe?) right now. So I came up with my own recipe. And it turned out great!! All 3 of us loved them. I even managed to eat one for breakfast this morning! First day this week eating something besides toast and peanut butter. I didn't measure anything while I was making them. Just added what looked/tasted right. So I'll try to estimate quantities. Definitely something I'll make again. Very easy and tasty. And a great way to get some spinach into our diets. You could prep them ahead and bake later. These were so easy to make that Rebecca could help me. I love that. While prepping the filling I was worried it would be kind of mushy. But the egg really holds everything together well. It firmed up nicely while baking. Almost like a quiche…but not nearly as eggy. You could easily add some cooked bacon or ham to get more protein in these. But they are plenty satisfying without meat.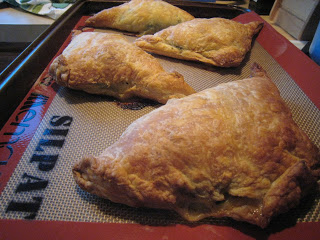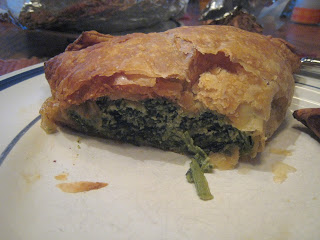 Spinach Pie
makes 4 individual pastries
1 sheet puff pastry, thawed
1/3 cup red onion, chopped
10 oz. frozen chopped spinach, thawed, drained
1 cup ricotta cheese
1/2 cup shredded mont. jack cheese
salt and garlic powder to taste
1 egg
Saute onion in olive oil until soft, about 5 min. Add spinach. Cook until soft. Season to taste. Put mixture in bowl. Add cheese (enough to make a creamy mixture) and extra seasoning if necessary. Add egg. Mix.
Heat oven to 400. Roll puff pastry on floured surface until big enough to make 4 large squares. Use pizza cutter or knife to cut into 4 squares. Place 1/4 of filling in middle of each square. Fold in half to make triangle. Pinch edges with fingers. Seal well with edge of fork.
Place on parchment or silpat lined baking sheet. Bake for 35 min. Let cool about 5 min. before cutting into pastries.