This post may contain affiliate links which won't change your price but will share some commission.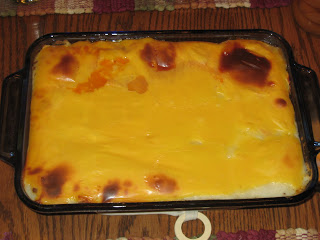 Last night I made an old classic casserole that Justin grew up eating. His family called it favorite casserole, but it's really hamburger pie. It's a lot like shepherd's pie…beef, potatoes and veggies. We haven't had it in a long time, but Justin requested it. And it kind of sounded good to me 😛 As long as you have mashed potatoes it's very easy to make.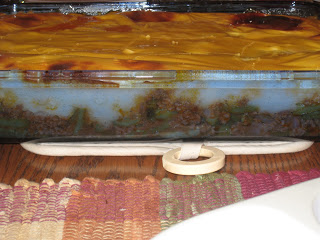 I made mashed potatoes in the morning so that prep was easy at dinner time. As far as casseroles go this one is pretty good. I wouldn't call it my "favorite" 😛 But maybe that's because I didn't grow up eating it.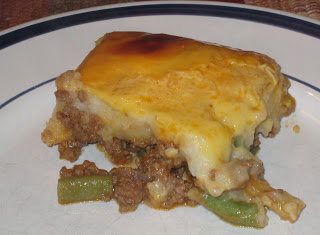 Hamburger Pie
1 lb. ground beef
1/4 cup chopped onion
2 cups mashed potatoes (as much as you like, at least enough for a thin layer on top)
1 cup shredded cheese (leave out the cheese to make it dairy free. You can add a thin layer of pureed squash in place of the cheese to add flavor)
salt and peper to taste (I also added garlic powder)
1 cup tomato soup
2 cups cooked green beans (cut or french style)
Heat oven to 350.
Brown the meat with onion. Season. Stir in the beans and soup. Pour into ungreased 11×7 pan (you could use 9×13 if you want a thinner layer…just be sure to have enough potatoes to cover it).
Spread the potatoes over top. Top with cheese. Bake until hot and top is slightly brown (30-40 min.).