This post may contain affiliate links which won't change your price but will share some commission.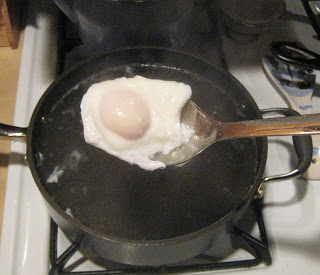 Along with our new potatoes last night we tried a new form of egg – poached. I had never made them before. And Justin and I had never actually even had one. I've always been a little scared to try making one…cooking an egg in a pan of water sounds tricky. But in one of my recent issues of Cooking Light there was a little tutorial on how to make poached eggs. It sounded really easy. So I gave it a try. It really was very easy. And quick! And they taste great. Very similar to a soft boiled egg. These days I try to eat at least one egg a day. And the runnier the yolk the better (the less it's cooked the more nutrients it retains). So this was perfect. And even more perfect with our fresh eggs from Lubbers Farm. Do you see the color of that yolk? Amazing. Rebecca is hit and miss with eggs. Just depends what mood she's in and how her gag reflexes are working 😛  So I just made her scrambled eggs last night. But she did try a bite of mine and said she liked it. Maybe next time I'll make one for her too. Now that I'm eating eggs so much it's fun to experiment with different ways to make them. This one is a winner for sure. It would be very good served right on top of hasbrowns or a piece of toast to soak up all that rich, creamy golden yolk.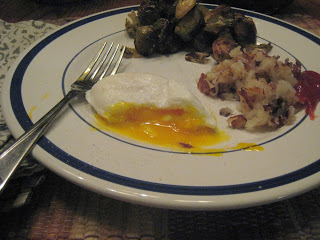 Poached Eggs
Fill shallow pan with about 2 inches of water. Bring to a boil, then turn down to a simmer. Add a few tsp. of vinegar. Crack each egg into a small dish. Gently pour egg into water (it will sink to the bottom at first). Let cook for about 3 min. Remove from water with slotted spoon to drain. Place on plate, potatoes or toast. Sprinkle with sea salt. Enjoy!