This post may contain affiliate links which won't change your price but will share some commission.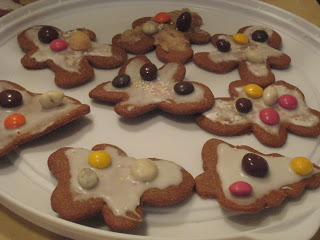 My goal this year is to make healthy holiday treats. I've never made gingerbread cookies before…and have never even had one! My mom never made them growing up because she doesn't like them. I'm not a fan of ginger, so I didn't know if I'd like them. But I wanted to try. I found a recipe for whole wheat cookies on englightened cooking. They were very easy to make. And they turned out really well. They are a bit on the gingery side for me, but I can still eat them. Rebecca really likes them. Justin does too. And they are not overly sweet.
For the deocrating I was trying to also go the healthy route. I had seen on Heavenly Homemakers how to make your own powdered sugar. But when it was time to make the icing my blender was dirty. So I tried using my food processor…didn't work. So I had to just grab the regular, white, processed stuff. I'll try making powdered sugar some other time. At least that's the only bad thing on them. And really there isn't much icing per cookie. I still used raw milk for the icing. And we decrated with chocolate covered raisins, yogurt covered raisins, gum drops, sprinkles and chocolate candies…all from the health food store. Rebecca enjoyed helping with these. But she only made it part way through decorating because she wanted to lick every piece of candy before putting it on the cookie :p  I guess she figured out how to get the treats.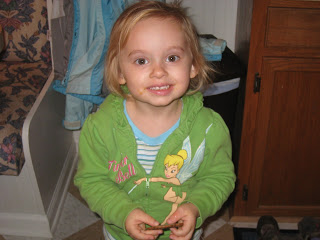 Overall a great recipe. It would work well for making a gingerbread house too. The dough was really nice to work with. I only made a half recipe since it was my first try. And it made quite a few cookies. A full recipe would make a LOT.
Please note that my photos are unedited right now. So they may not be the best.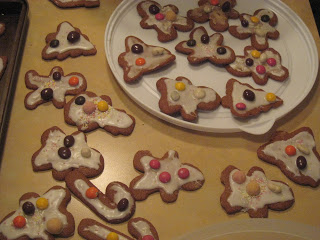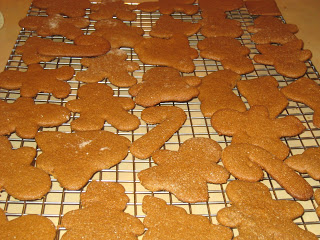 Whole Wheat Gingerbread Cookies
2/3 cup molasses (not robust)
2/3 cup packed dark brown sugar (I used organic brown cane sugar)
2 Tbsp. ground ginger
1 Tbsp. ground cinnamon
1 tsp. ground cardamom (optional, you can use allspice) (I skipped this)
1/2 tsp. ground cloves
2 tsp. baking soda
2 sticks (1 cup) unsalted butter, cut into tablespoon pieces
1 large egg, lightly beaten
3 and 3/4 cups white whole wheat flour (I used freshly ground hard winter wheat)
1/2 tsp. salt
1/4 cup all-purpose flour (I used my freshly ground wheat flour for this too)
Preheat oven to 325°F. Line 2 large cookie sheets with parchment paper.
Bring molasses, brown sugar, and spices to a boil in a 4- to 5-quart heavy saucepan over moderate heat, stirring occasionally, and remove from heat. Stir in baking soda (mixture will foam up), then stir in butter a few pieces at a time, letting each addition melt before adding next, until all butter is melted. Stir in the egg until combined; stir in white whole wheat flour and salt.
Transfer dough to a lightly floured surface and knead, dusting with as much of the 1/4 cup all-purpose flour as needed to prevent sticking, until soft and easy to handle, 30 seconds to 1 minute. Halve dough, then wrap 1 half in plastic wrap and keep at room temperature.
Roll out remaining dough to 1/4 inch thickness on a lightly floured board.
Cut out cookies with cutters; transfer to prepared sheets, arranging them about 1 inch apart.
Bake cookies in upper and lower thirds of oven; switching position of sheets halfway through baking, until edges are slightly darker, 11-13 minutes total (do not overbake—watch carefully!). Transfer cookies to racks. Cool completely. Repeat with remaining dough and scraps (re-roll once). Makes about 3 dozen medium cookies, Decorate, or eat straight up.