This post may contain affiliate links which won't change your price but will share some commission.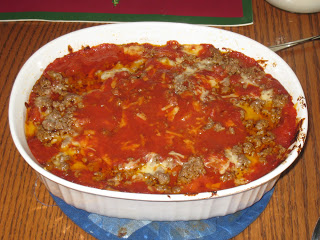 Last night for dinner I tried yet another Heavenly Homemaker recipe. I love Laura's recipes because they are easy to make, healthy and use a few simple ingredients. This enchilada bake was no exception. Very easy and very good. I almost thought it sounded too simple…that it might be bland. But it was very good! All three of us loved it. And it was very easy to make. Laura didn't mention what size pan to use, so I just used a 1 1/2 qt. casserole. And I scaled back on the sauce a bit…and had plenty. I don't have much cheese in the house (our milk farm was out this week!), so I only used 1 cup. But it was still very good. I used up a few old corn tortillas that have been in the freezer for a while and some homemade whole wheat tortillas. Both worked well. This is also a great prep ahead meal. You can prep it in the morning and bake it for dinner. Or you can prep it and freeze it for later. I'll have to keep this one in mind when I'm prepping freezer meals before baby #2 arrives 🙂  I served it with avocado and homemade salsa. Sour cream would be very good on it too.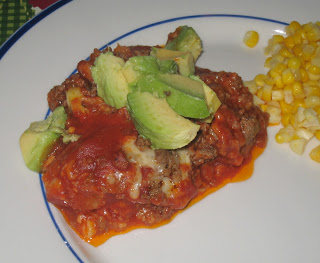 Beefy Enchilada Bake
1 lb. ground hamburger meat
3 Tbsp. arrowroot powder or flour (I used 2 Tbsp.)
1/2 cup water (I used 1/4 cup)
1-2 tsp. chili powder (depending on your taste)
salt
3 cups tomato sauce (I used about 2 cups)
8 oz. shredded cheddar cheese
12 corn tortillas (I used 4 corn and 4 whole wheat. This is gluten free if you use just corn.)
Brown hamburger meat. Do not drain grease! Put cooked hamburger meat in separate bowl, salt and set aside. Sprinkle arrowroot powder into the grease and stir (if you do not have enough grease to absorb the arrowroot powder, add 2 Tbps. butter). Keep your burner on medium to high heat. Pour in water and "smoosh" the clumps of arrowroot powder/grease around while you stir the water in. This will thicken and make a gravy. Pour in tomato sauce and chili powder. Stir well until bubbly. This is now your enchilada sauce! (I added some salt and garlic powder to the sauce in addition to the chili powder.)
Cut corn tortillas into one inch strips. Dip tortilla strips in enchilada sauce and coat thoroughly. (I just ripped the tortillas into big chunks and threw them all in the pan and stirred. then I spooned out sauce and tortilla for each layer.) Cover bottom of baking dish with enchilada sauce coated tortilla strips. (I used a 1 1/2 qt. casserole with my quantities listed above. You might need a bigger pan for the full recipe.) Sprinkle 1/3 of the cooked ground beef over the tortillas…then a little cheese. Repeat layers twice more: enchilada sauce coated tortilla strips, meat, cheese. If you have any leftover enchilada sauce, drizzle it over the top.
Cover and bake at 350° for 30 – 40 minutes or until bubbly. (I baked it for about 45 min., then removed the cover and baked another 5 min.)
*I think adding some veggies right into the casserole layers would be good (corn, peppers, onions, etc.). Then it could be an all-in-one meal.