This post may contain affiliate links which won't change your price but will share some commission.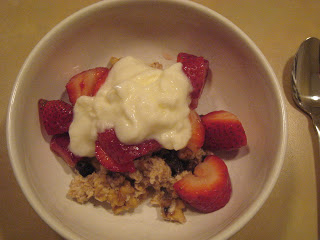 In my search through my Barefoot Contessa cookbooks this month I came across a recipe for muesli that sounded good and easy. I'm always looking for new breakfast ideas to give us a little variety. This was super easy and really good. It's a lot like granola, just softer. And I LOVE granola. Unfortunately oats don't agree with my tummy too well. So I know I have to limit my intake. But this is a tasty breakfast option once in a while. I love how easy it is too. I've seen other versions of muesli that are soaked a lot longer…and probably better for you because of that. So I'll have to try other recipes sometime. But this was a great first attempt at muesli. And I actually used one of my cookbooks this month 🙂  The recipe calls for strawberries and raspberries. I just used strawberries. Any berry would work really well. I also added a few extra raisins. If you are trying to find breakfast options to replace cold cereal this is a good one. And it's pretty versatile. You could add in other things besides nuts and raisins, like coconut and seeds.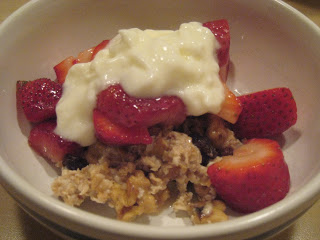 Muesli with Red Berries
serves 2 (fairly small servings)
1/3 cup quick cooking oatmeal
1 1/2 Tbsp. coarsely chopped toasted hazelnuts (I used crispy walnuts)
2 Tbsp. granola with raisins (I used homemade)
pinch of salt
1/3 cup hottest tap water
1 Tbsp. honey (raw is best)
4 large ripe strawberries, hulled and sliced
6 to 8 fresh raspberries
2 tsp. cane sugar
greek yogurt (I used full fat plain yogurt)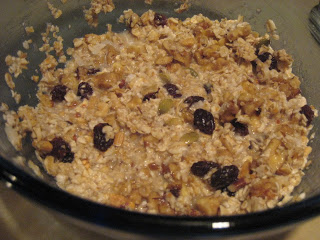 Mix oatmeal, nuts, granola and salt in a bowl. Pour the water and honey over the mixture, stir and set aside to soak for 12 – 15 minutes.
Meanwhile, toss the berries and sugar in a bowl and allow to macerate. (If you want to cut back on sugar you could skip this step and just use fresh fruit. It would still taste very good.)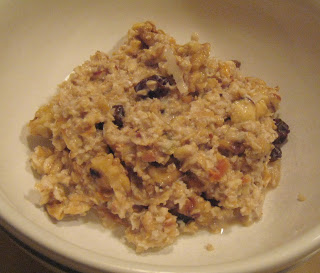 When ready to eat, divide the muesli between 2 bowls. Top with berries and yogurt.