This post may contain affiliate links which won't change your price but will share some commission.
I'm sure everyone has their own version of "7 layer dip." I got a recipe many years ago from my sister called Mexican 8 Layer Dip. I haven't made it in a long time. But I made some this morning for our Super Bowl dinner tonight. I think I ended up with 7 layers. I'll post it as I made it. I love this recipe/idea because you can basically add whatever you/your family likes. I was also happy to finally have a chance to use one of my new serving dishes I got for Christmas. It was perfect for this!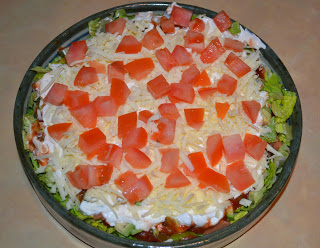 Mexican Layer Dip
2 cups shredded lettuce
1 can refried beans
1/2 cup salsa
8 oz. sour cream
1 avocado, diced or guacamole or avocado dip
1 cup shredded cheddar cheese
1/2 cup diced tomatoes
(other possible toppings – sliced olives, diced onion, taco sauce, sliced green onions, sliced mushrooms, diced green chiles, corn)
Layer on platter in order listed. Cover and chill 4-24 hours. Serve with tortilla chips, crackers or raw veggies.