This post may contain affiliate links which won't change your price but will share some commission.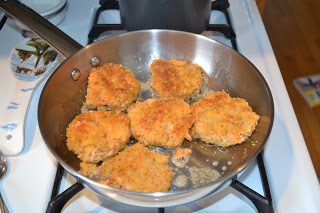 Yesterday I wanted something light for lunch since I knew we'd have a bigger, snacky dinner. And I'm trying to get more seafood into my diet right now. So I decided to make salmon cakes. I've made them before…but a recipe that takes some extra work and prep ahead. I wanted something easy. So I threw these together using what I had on hand. Simple, quick, healthy. And delicious!! All 3 of us liked them. And I'm excited to eat the leftovers. I cooked a couple salmon filets to use in these. You could used canned salmon. I didn't measure anything. But I'll try to give rough estimates of what I added.
My daughter LOVES these (and she can be picky about fish). So if you are trying to get your kids to eat more healthy seafood give these a try.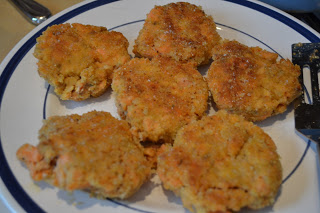 Salmon Cakes
makes ~ 7 cakes
2 (6 oz.) salmon filets, cooked OR 1 (14 oz.) can salmon
1 egg (optional)
1/4 cup mayo (preferably homemade)
1/2 – 1 tsp. Old Bay seasoning
1/2 – 1 tsp. sea salt
1/4 cup – 1/2 cup almond flour and/or coconut flour
Crumble salmon in a bowl. Add egg, mayo and seasoning. Mix well. Form into balls. Roll in flour and flatten slightly. At this point you can cover and refrigerate them (helps to firm them up/hold them together before cooking. and allows you to prep them ahead) or cook them immediately.
To cook, heat a large skillet and add butter, coconut oil, palm shortening and/or lard. Cook salmon cakes in oil/butter for about 5-7 min. per side.
Serve plain or with tartar sauce (homemade mayo mixed with a little sweet pickle relish).