This post may contain affiliate links which won't change your price but will share some commission.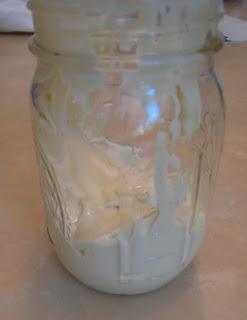 A few weeks ago I tried making mayonnaise. It did not turn out well. I couldn't eat it. I had to toss it. I did a little searching and found a link for a different recipe on The Nourishing Gourmet. It had good reviews, so I tried it today. Turned out much better! I'll probably still  play around with the recipe a bit (seasoning) to get it exactly to my liking. But it is good as-is. I didn't add any whey this time since that has a pretty strong flavor, and I wanted to really taste this mayo. So it won't last as long, but that's ok. We'll see what Justin thinks of it. Now I have to come up with some recipes that use mayo in the next couple weeks 🙂  This is so easy to make. Only takes a few minutes. And it works really well with the stick blender. It thickens up so quickly.
*Edited 7-6-10: We used this to make cashew, avocado chicken salad on Sunday. Tatsed great!!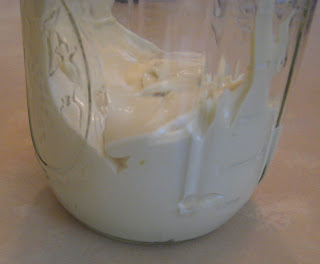 Mayonnaise
2-4 egg yolks (I used 2)
½ tsp. mustard
1-2 Tbsp. lemon juice
1 tsp. balsamic vinegar
2 tsp. white wine vinegar (I used regular white vinegar)
1 tsp. celtic sea salt
¾ c. oil- hemp or grapeseed (I used grapeseed)
1. Combine everything EXCEPT the oil. I use a container just large enough for the stick blender to go into (I used a wide mouth mason jar).
2. Mix with a stick blender until creamy.
3. While blending, add the oil in small increments and mix until it's homogenized. I lift the blender up and down as it's blending- the quick up and down motion helps the mixture to homogenize, and it will thicken right up.
That's it! This mayonnaise lasts about 2 weeks in the refrigerator.
Variations:
Add:
Onion or onion powder
Garlic or garlic powder
Soysauce
1 tsp maple syrup- smoothes the flavors
Extra balsamic vinegar
Pesto
Cayenne
Basil
Make salad dressings:
Crème fraiche (or sour cream) and dill
Mayonnaise with pesto
Mayonnaise with ketchup, onion, garlic, pickles, soy sauce- (thousand island)
Mayonnaise and/or crème fraiche with any combination of herbs and flavorings
Mayonnaise with crème fraiche and basil