This post may contain affiliate links which won't change your price but will share some commission.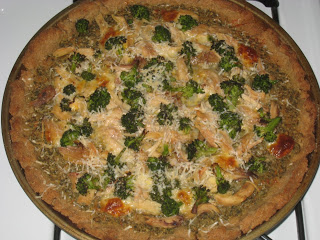 Last night for dinner I made pesto pizza with freshly made basil walnut pesto (our own basil and crispy walnuts). I love making pizza and have a good dough recipe. But last night I wanted to try something easier. I had seen a recipe on Heavenly Homemakers a while back for a no yeast/no rise crust that sounded interesting. So I gave it a try last night. Very good! It's definitely different than what we're used to. It's not bready like most pizza crust. But it's still very good. And it's actually a lot easier for Rebecca to eat since it's not so doughy. She ate almost as much as I did! Normally when we have pizza she doesn't eat much of it or just eats the toppings. So I'm glad I tried this. I was experimenting since Laura didn't say how many pizzas this would make. I made a half recipe and used it all for 1 pizza. It was a little more than I needed, but I still used it all. I made a "crust" around the edge like most pizzas have…but that isn't necessary with this type of dough. Next time I think I'll try to split it into 2 pizzas and not really have an outer crust. I used my bulgur flour for this, so I didn't have to worry about the dough not being soaked. I'm guessing you could soak the dough since it's made with butter and yogurt. I'll have to try that sometime. This is a good recipe for sure. So quick and easy. And a great way to make pizza when you don't have time to let dough rise. Or if you just want to avoid using yeast. I think my next experiment will be sourdough pizza dough. Guess I better plan another pizza night 🙂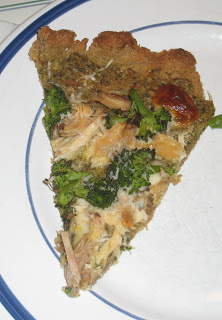 Whole Wheat Pizza Dough
Makes ~ 6 personal pizzas or 3-4 medium size pizzas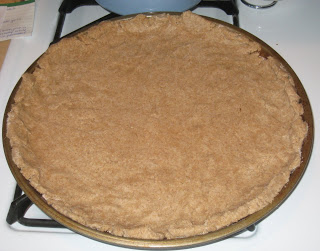 Crust:
3 1/2 cups whole wheat flour (bulgur flour works well)
1 tsp. salt
1 cup plain yogurt
1 cup butter, melted on stove
1.Stir together flour and salt in mixing bowl.
2.Add yogurt and melted butter. Stir well until ball of dough is formed.
To make pizza:
1.Preheat oven to 400 degrees.
3.Sprinkle flour on baking pans to cover surface.
4.Pat dough on pan as thick as you prefer.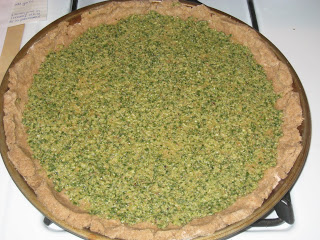 5.Spoon on sauce and spread around dough.
6.Top with cheese and favorite toppings.
Bake for 20-25 minutes until cheese is melted and turning golden brown.