This post may contain affiliate links which won't change your price but will share some commission.
Since my husband is from WI and is a huge GB Packers fan…and they were in (and won!) the Super Bowl  yesterday I wanted to make something fun for the occasion. I decided to make yellow and green deviled eggs. I made regular deviled eggs for the yellow. And I added avocado for green. Again, I didn't really measure anything. I'll try to give a rough estimate. I only made 4 eggs total. You can increase the recipe for a large group. I ate leftovers for breakfast this morning. Yum! Deviled eggs are good any time of day 🙂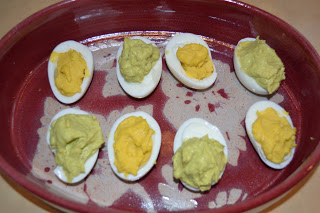 Green Deviled Eggs
2 hardboiled eggs
1/4 – 1/2 ripe avocado
1 Tbsp. mayo (preferable homemade)
salt to taste
Yellow Deviled Eggs
2 hardboiled eggs
2 Tbsp. mayo (preferably homemade)
1 – 2 tsp. mustard
salt to taste
Split eggs in half. Put whites in a serving dish. Put yolks in a food processor (I use a mini processor for such small quantities). Process for a few seconds. Add remaining ingredients. Blend. Adjust to taste. Fill egg whites with yolk mixture. Chill.
*Note – the green eggs will turn color after a while because of the avocado. So don't make them too far in advance.