This post may contain affiliate links which won't change your price but will share some commission.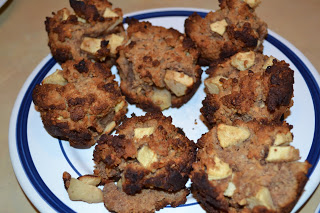 Another new grain free muffin attempt today. I found this recipe on Cooking GAPS. I modified it slightly – used coconut oil instead of ghee and did the egg yolk/white trick so I could eliminate the baking soda. They turned out well, but fairly crumbly. I think that's because I used some of my homemade almond-pecan flour…which is quite coarse. And the quantity of apple made them not hold together as well. I'll have to experiment a little to get them just right. Or maybe add an extra egg next time. The dough was very thick. But overall a great recipe. Very good flavor. Next time I'll use muffin liners, too. That will help keep the muffins together. I'll post the recipe the way I made it. This made 11 muffins.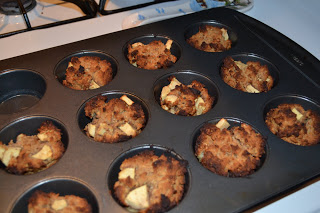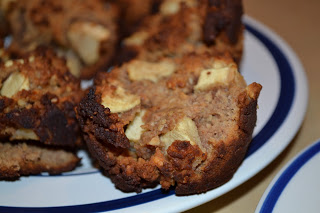 Apple Cinna-Muffins
10-12 muffins
2 cups almond flour (I used 1 cup crispy almond-pecan flour, 3/4 cup almond flour and 1/4 cup coconut flour)
1/2 tsp. sea salt
1 tsp. ground cinnamon
1 egg, separated
1/4 cup coconut oil, melted (or ghee at room temperature)
1/2 cup honey
1 Tbsp. vanilla extract
1 large or 2 medium apples, peeled, cored, and cut into 1/4-inch pieces
In a medium bowl, mix the almond flour, salt and cinnamon. In a small saucepan melt coconut oil. Add honey and vanilla. Add egg yolk to dry ingredients. Beat egg white until stiff. Add oil mixture to dry ingredients. Fold in egg white. Fold in apples. Spoon batter into paper lined muffin pan and bake for 25-35 minutes, until the tops are golden brown.