This post may contain affiliate links which won't change your price but will share some commission.
This isn't much of a recipe. But it was a very tastey and exciting meal last night that I figured I'd share 🙂  When you start eating grain free there are a few things here and there that you miss…like french toast. I grew up eating french toast for breakfast almost every Saturday morning. So it was a wonderful treat to be able to eat french toast for dinner last night. Earlier in the week I made a batch of
cinnamon raisin nut butter bread
. Then I used that to make french toast. YUM!!!!! I drizzled it with honey instead of maple syrup (syrup tastes better…but not so good for the tummy) to make it GAPS legal. I felt like I got to eat dessert for dinner. And I didn't have to worry about it making me sick. This is a very basic french toast recipe. I made it with kefir this time instead of milk to make it GAPS legal. Worked great.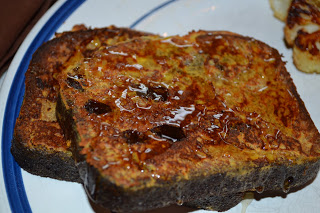 Grain Free French Toast
6 slices nut butter bread (plain or cinnamon raisin)
2 large eggs
1/2 cup milk kefir
cinnamon (optional)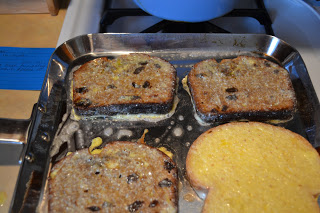 Mix eggs and kefir (and cinnamon). Heat griddle over medium heat. Grease griddle with butter, coconut oil or lard. Dip bread in egg mixture, coating both sides. Cook on griddle a few minutes on each side, until lightly brown and egg is cooked. Serve warm with honey.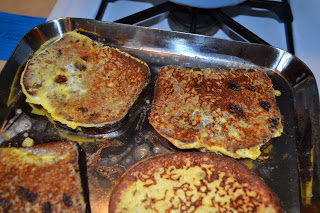 If you are making a large batch you can keep the french toast warm in a 250 degree oven while you  make more.