This post may contain affiliate links which won't change your price but will share some commission.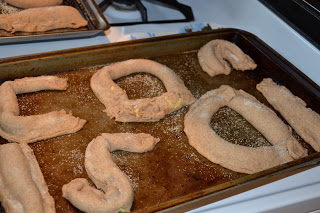 This week we are learning the letter D. So what's more fitting for a Dutch girl than Dutch letter cookies? 🙂  I had actually never heard of these before. I just did a search for Dutch desserts and found this recipe on All Recipes.  So Rebecca and I made them yesterday. They turned out pretty well. I can't say they are the easiest cookie to make with a small child. But still a fun one. The dough and filling are super easy to make. Rebecca liked helping with that. The assembly was a bit tougher. I think I should have made my dough a tiny bit wetter and rolled it a bit thinner. But the phone was ringing, baby crying, little hands trying to help and eat all the dough, etc. So I had to just do what I could. I didn't end up making many actual letters. But we managed a couple. In the end they turned out ok and taste pretty good (this coming from someone who doesn't really like almond/almond paste). I forgot to do the milk/sugar topping until after I had them in the oven already. So I quick took them out and just sprinkled a little sugar on. No milk. I had some filling leftover, so I just put that in a little dish and baked it with the cookies. That's the grain free version of this dessert 😛  A fun experiment. Maybe we'll try it again when Rebecca is a little older. And we have more time to roll and shape the cookies properly. I didn't take any good pics since I was dealing with a baby that just woke up, trying to finish the cookies and get Rebecca to eat lunch.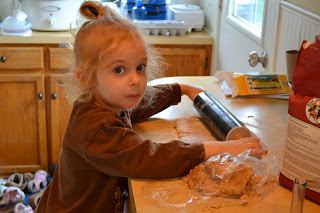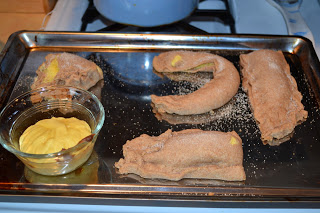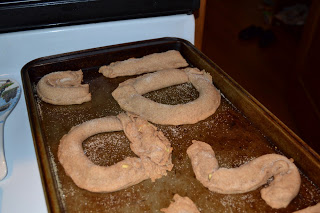 Dutch Letter Cookies
2 cups all-purpose flour (I used organic whole wheat flour)
1/4 tsp. salt
1 cup butter, chilled
1/3 cup ice water
8 ounces almond paste
1 egg
1/4 cup white sugar (I used organic cane sugar)
2 Tbsp. milk
1/3 cup granulated sugar for decoration (I used organic cane sugar)
In a medium bowl, stir together flour and salt. Cut in chilled butter until the texture of the mix is mealy with pea sized lumps (I made the dough in my food processor). Add ice water gradually while stirring with a wooden spoon until dough forms a ball. Cover your dough and chill for 1/2 hour.
To make filling, in a small bowl, mix together the almond paste and sugar. Add the egg and mix well.
Preheat oven to 375 degrees F (190 degrees C ). On a lightly floured surface, roll out the dough to 1/4 to 1/8 inch thickness, making as square as possible (I did this in two batches). Cut the dough into strips 6 inches long and 1 1/2 inches wide (about the width of a ruler) (I made my strips much longer, else you'd never be able to shape it into a letter). Using a pastry bag or a strong plastic bag with a small hole cut from the corner, pipe almond filling down the center of the strip starting halfway down. Fold the top half of the strip down over the almond filling to match the bottom (I experimented with lengths/folds. And I made sure to seal the edges well).
Shape strips into desired letters, brush with milk and sprinkle with sugar. Bake in preheated oven for about 20 minutes or until golden brown. Remove from the oven and cool on a wire rack.