This post may contain affiliate links which won't change your price but will share some commission.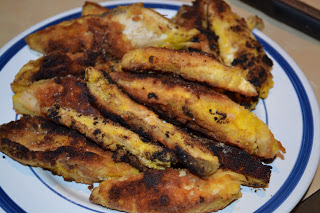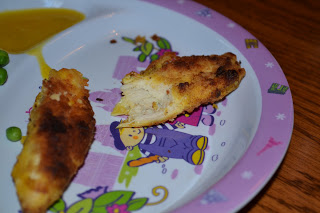 On Sunday I roasted a chicken. I love having all the leftover meat to use in other meals. I had planned to make chicken nuggets this week. I usually use boneless skinless chicken breasts for that. Cut them, bread them, fry them. But when I deboned my chicken this week I had very limited time so most of the meat was still in large chunks. Then I thought, wouldn't it be easier to use that to make my chicken nuggets? So I tried it last night…AWESOME!! Best chicken nuggets I've ever made I think. The meat is already cooked, so you just have to fry it until you have a nice crust. So quick and easy…and much less messy…no raw chicken to deal with. I broke the meat into the size of strips/nuggets I thought looked right. Then I dipped them in egg, rolled them in coconut flour and pan fried them in a combo of lard and palm shortening. Delicious!! I served them with homemade honey mustard. It reminded me of eating chicken strips at Fudruckers when I was younger…the flavor anyway…this meat was far superior 🙂  Rebecca absolutely loved them as well. I don't know that I've seen her eat/chew her food that quickly in a long time 🙂  I can't wait to have leftovers for lunch today. Dip them in honey mustard with extra egg yolk mixed in…tons of nutrition. I think I know what I'll be making with leftover roasted chicken in the future 🙂  You could even make a huge batch and freeze them for even easier meals on busy nights. Just warm and serve.
This post is linked to Grain Free Real Food Linky Carnival at Real Food Forager.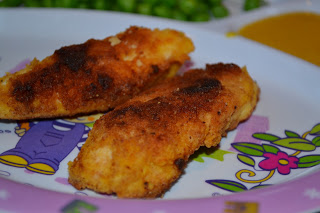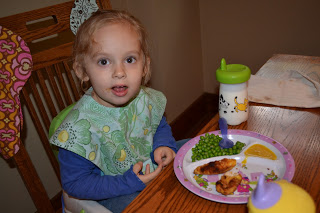 Easy Chicken Nuggets
Leftover roasted chicken in large chunks
1 egg, beaten
1/4 – 1/2 cup coconut flour
salt to taste
lard, palm shortening, coconut oil, tallow or butter for frying
Break chicken into strips/chunks. Coat chicken in egg. Then in flour/salt mixture. Fry in hot grease/oil in cast iron skillet, a few minutes on each side until golden and crispy. Serve with honey mustard or fermented ketchup.