This post may contain affiliate links which won't change your price but will share some commission.
We eat quite a bit of ketchup. I was making fermented ketchup for a while. Then I got out of the habit when I got pregnant and couldn't handle anything fermented. Recently I saw a recipe for fermented ketchup on Nourished and Nurtured and thought I should get back into the habit and give a new recipe a try. So I made this at the beginning of the week and let it set on the counter for a few days. We gave it a try yesterday. At first Rebecca said she liked it. Then she seemed unsure. It is good, but I think I will have to still modify it a bit more to our liking. I did adjust as I was making it, so I didn't follow the recipe 100%. The thing I have a hard time with when making homemade ketchup is the texture. Maybe I'll try making it in the blender next time. Yesterday I used my immersion blender on this batch. It helped smooth it out a little, but it's still thicker than boughten ketchup. I think maybe I need a little more liquid and then I can blend it. Anyway, I'm glad I tried it. I'm glad we have a fermented condiment for dipping again. I'll have to keep experimenting. But this is a good base recipe. I'll post the original recipe. I didn't make a full recipe. Just enough to fit in one pint jar. I'll update later if I come up with some mods.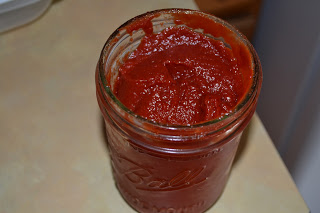 Fermented Ketchup
three 7-oz jars of tomato paste, preferably in glass jars to avoid BPA
1/4 cup plus 2 Tbsp. raw honey
3 Tbsp. raw apple cider vinegar
3 small garlic cloves, pressed (I just used garlic powder)
6 Tbsp. whey
2 1/4 tsp finely ground celtic sea salt
pinch cayenne pepper (I didn't add this)
Combine all ingredients in a bowl (if using a quart mason jar, you can save on dirty dishes by mixing this up directly in the jar). Stir well to combine. If using pint mason jars, pour the ketchup into the jars.
Ensure that the top of the ketchup is at least 1-inch below the top of the jar(s).
Using a clean cloth or paper towel, wipe the top of the jar above the ketchup clean.
Put lid on jar and leave at room temperature for 3 days; then transfer to the refrigerator.