This post may contain affiliate links which won't change your price but will share some commission.
Over half way through September already? Wait, slow down 😛  I guess it means we're keeping busy.
Last week we did our family GAPS challenge. I was glad I was able to come up with a full GAPS menu so easily. And nobody starved and nobody complained about the food 🙂  I have yet to ask Justin if he noticed any difference in how he felt. I'm guessing not since his diet is normally a whole foods diet, largely GAPS anyway. But you never know. I won't always serve all GAPS meals, but this was a fun experiment. It also helped me get in the GAPS mindset. And give me more direction. I have been talking about starting intro this fall. And wouldn't you know it Health, Home and Happiness is having a 30 day GAPS intro challenge in October! So I signed up for it. But I will probably modify it a bit since I am breastfeeding. I don't want to mess with my milk supply. I've always been so scared of intro. Can I really do it? It is so limited. But I have put a lot of effort into making slow changes to lead up to it. And yesterday I re-read the intro diet and the different steps. I'm actually not that far off from intro already! The intro foods are already a bulk of what I eat daily. And since I've already been doing this a while and have experienced a fair amount of healing it's likely that I'll be able to move through the first few stages pretty quickly. So I could get back to the diet I'm at now pretty quickly it seems. It doesn't sound so difficult anymore. And I'm hoping to do one day of GAPS intro this week as another way to prep for real intro…see what it's really like. I'm actually getting pretty excited.
Since I'm on the topic I'll update on my health last week. I actually felt really good most of the week. I started each day with awesome soup made with rich chicken stock and pureed veggies. I think that really helps. I ate 3 raw egg yolks almost every day. Plus lots of other healthy food. I felt so good that I decided to experiment a bit. I have been avoiding coconut flour for a while, but I made coconut bread last week. And both Abram and I seemed to do ok with it. Very exciting! I didn't eat a lot since I was expperimenting. But even tolerating a small amount was a big success. I also ate 2 whole apples!!! And seemed to do ok with those too. You have no idea how exciting this is (especially since it's apple season). I LOVE apples. But have not been eating them for quite a while now because they seem to bug me. But I did ok with them. This doesn't mean I'll be eating apples every day now. But it is so nice I can treat myself to a crispy, fresh apple once in a while. And not have to worry about avoiding pieces of them in things like fruit salads. On the down side, I confirmed that I can't eat too many nuts. Thursday we did a lot of baking…which includes lots of nuts when you're on GAPS. I made cinnamon bun muffins in the morning (almond flour and coconut flour). I didn't actually eat a whole muffin, but I ate a few bites of Rebecca's. Then we made peanut butter brownies…definitely took a few too many tastes of those. And then we had muesli scones for dinner (almond flour). Plus that was the first day all week I didn't start with soup/broth. And I had a little dairy in my dinner (quiche with kefir and a small amount of parmesan cheese). So the last few days have not been quite as good. Although not as bad as I would have expected. It's very encouraging to see progress. Hopefully I'll get back on track with lots of broth this week to help seal my gut.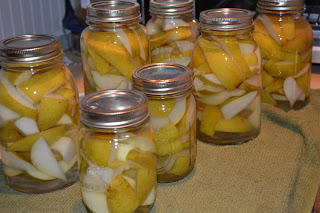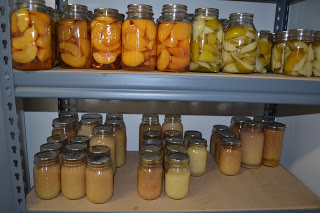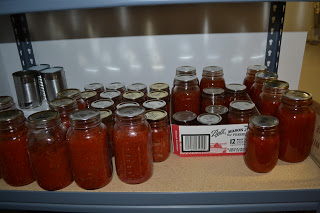 I spent plenty of time in the kitchen last week. I made gf muesli, fermented ketchup, toothpaste, coconut flour bread, egg muffins, kefir, lots of smoothies, cinnamon bun muffins, gf muesli scones, peanut butter brownies and sauerkraut. I also canned one more batch of spaghetti sauce (last one for the season I think), pear slices and pearsaue. I bought a 1/2 bushel of pears last week. And Friday I canned 3 batches of pear slices (9 qts. and 12 pts.). I am experimenting this year…I did them all with the skin on! We'll see how they turn out. I used the last of our pears to make pearsauce (5 pts.). So glad to have that done. I might do more pearsauce yet this year. But no more pear slices. My pantry is really filling! I've already run out of quart jars. Thankfully a friend from church is giving me 15 jars today. I'll need those for applesauce. One other thing in our kitchen was our new sink faucet. I love it!
And outside of the kitchen I was FINALLY able to get the kids drawers organized yesterday (thanks to my wonderful husband for playing with the kids so I could have 2 free hands for a little while). We are so blessed to be able to borrow so much clothes from my sister…but it is a lot of clothes…and a lot of work to go through it all and get it put away. I've had baskets of clothes sitting all over the place upstairs for weeks now. And piles of stuff just sitting on the floor. So I'm happy to have clothes put away and finally know what the kids have/don't have. I don't think we'll need to buy  much for either of them for the fall/winter. I feel much more relaxed now that my house doesn't look so chaotic and I don't have that hanging over my head/I'm not digging through piles to get the kids dressed every day.
Ok. Was that enough about last week? ;P  On to this week. Today is church…for Justin. Rebecca already has her first cold of the season. So we'll be staying home. I'm praying it's short lived and that Abram doesn't catch it. Monday is Meijer and I have a nursery cmt meeting in the evening. Tuesday is farmer's market and Kindermusik. Wednesday I might go to Harvest Health. Just depends how we're doing on milk. And it is co-op pick up. Maybe Thursday we'll do some kind of fun outing. Friday is our first MOPS meeting!! I'm so excited for that. Rebecca is too. And Saturday we're going to a farm tour at Grassfields (where we get our beef). Not sure yet who all is going. Could just be me with the kids. Justin might come. And my SIL and nephew might come.
I think I'm going to take it a bit easier in the kitchen this week. I don't have any canning planned (a nice break!!). And no major projects. I'm sure stuff will come up, but it will be nice not to have such a crazy week. Our letter this week is C, so who knows what we might bake…cookies, cake, chocolate…the possibilities are endless 🙂  I do plan to make pesto and beef broth. But that's all that's planned at the moment. I have some food experimenting to do today too. I'll update on that tomorrow. Here's what's on the menu.
—————————
S (prep lunch, make sauerkraut, church, make broth)
  B – leftover stuffed squash and leftover steak (me), sausage, muesli scones, fruit (Justin)
  L – rump roast w/ carrots, peppers and summer squash in cp
  D – zucchini sushi w/ cucumber, avocado, beets and beef (me), mini bacon meatloafs, broccoli, french fries (Justin)
M (make pesto, Meijer, nursery cmt)
  B – broth, ground beef, lentils, beans (me), yogurt, fruit, gf muesli parfait (Justin)
  D – (early, separate) – squash and sausage soup, crackers w/ cheese
T (boil eggs, KM, FM, prep smoothie)
  B – soup (me), hard boiled egg, toast (Justin)
  D – pan fried salmon filets, carrot and squash fries w/ fermented ketchup, peas, fruit
W (make mayo, C baking project, grind flour, co-op, put away laundry)
  B – kefir smoothie, sd peach muffins (Justin), broth w/ salmon, peas, squash and lentils (me)
  D – corn dog muffins w/ fermented ketchup, corn, applesauce (Justin), salmon, avocado, beets (me)
Th (clean office, GAPS intro day, C baking project?, outing?)
  B – broth/soup (me), hard boiled egg, toast (Justin)
  D – broth/soup (me), pork chops, sweet potato fries, broccoli (Justin)
F (clean, MOPS)
  B – broth w/ avcado (me), apple slices w/ almond butter, yogurt (Justin)
  D – scrambled eggs, toast, roasted veggies, fruit
S (laundry, GF tour)
  B – broth/soup (me), yogurt, fruit, granola parfait (Justin)
  D – cashew avocado chicken salad, squash