This post may contain affiliate links which won't change your price but will share some commission.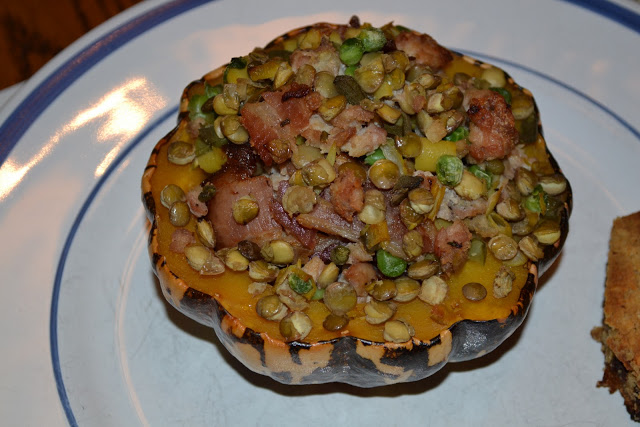 Last night for dinner I made stuffed squash. This isn't totally a new recipe. I made stuffed squash before (and it was awesome!). But I made a grain free version yesterday. So I figured I'd do a new post for it. Same concept, though. Just bake the squash and stuff it with what you like, really. I made ours very filling with lentils, cut up green beans, peas, homemade chicken sausage and bacon. And I topped Justin's with parmesan cheese. I love that these are a whole meal in one (although I did serve other stuff with them). They do take a bit of work to prep all of the components before assembling. But it's worth the effort 🙂  I did not add any nuts this time, but pine nuts, pistachios or some other chopped nuts add a nice crunch to it.
This post is linked to Grain Free Real Food Linky Carnival at Real Food Forager.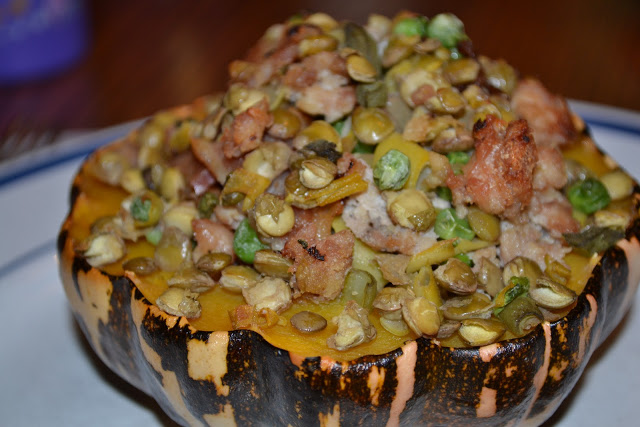 Stuffed Squash
1 small squash of choice (Buttercup works well)
3 slices bacon, cooked
1/3 cup cooked sausage
1/2 cup cooked lentils
cooked, chopped veggies (I just used some leftovers we had in the fridge. If you are using fresh you can saute them first. Peppers, onions, carrots, mushrooms and celery would all be good).
Seasoning to taste (I used sea salt and garlic powder)
cheese (optional…you can mix it into the fill and/or grate it on top)
nuts (optional)
Cut squash in half. Scoop out seeds. Place on baking sheet. Sprinkle with salt. Cover with foil. Fill bottom of pan with water. Bake at 400 until fully cooked (1 – 11/2 hours). Mix remaining ingredients. Stuff each half of the squash with the filling. Top with cheese if desired. Bake at 350 for 20 minutes.