This post may contain affiliate links which won't change your price but will share some commission.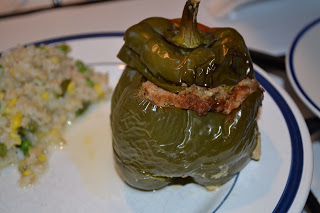 Yesterday I had a doctor appt. in the afternoon, so I needed a prep ahead dinner. I decided to try making stuffed peppers in the crockpot. I didn't really use a recipe. I just made a simple meat mixture and stuffed it into a couple peppers.
It cooked all day in the crockp0t. What a super easy, super tasty dinner! I just ate the meat since peppers bother my little one. But it was still good. Even my daughter ate all of hers.
The peppers get super tender. You can peel the skins right off (a big bonus for kids). You can mix just about anything into the meat…rice, veggies, beans, cheese. I kept it very simple so that I could eat it. I used one pound of meat for 2 large peppers…that could easily serve 4 people.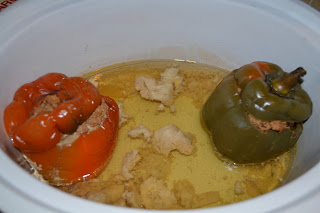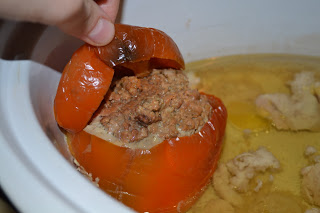 Crockpot Stuffed Peppers
2 large bell peppers, top cut off, seeds/insides removed
1 lb. ground beef
1 egg
1/3 cup ketchup
2 Tbsp. mustard
salt and garlic powder to taste
(any other fillings you like)
Prepare the peppers.
Mix the meat with the remaining ingredients. Stuff the meat mixture into the peppers.
Put the tops on the peppers.
Put a small amount of water in the bottom of the crockpot. Place the peppers inside (I found it worked well to have them against the sides since they get soft and can tip while cooking).
Cover and cook on high 4-8 hours or low 6-12 hours (I think I had mine on high for a few hours then switched it to low for the rest of the day…about 9 hours total).