This post may contain affiliate links which won't change your price but will share some commission.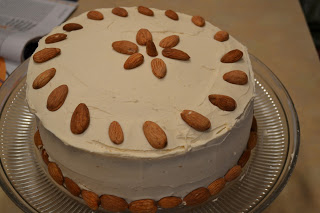 My in-laws are here this weekend, and today happens to be my father-in-law's birthday. So I wanted to make a cake. I had thought about doing carrot cake. Then I wondered if I could add pumpkin and make a pumpkin carrot cake. I did some searching and found a recipe for pumpkin spice cake on Joy of Baking. So I went with that. And I'm glad I did. It turned out great!! Very easy to make. Rebecca helped me with it. Everyone enjoyed it last night. The original recipe uses a cream cheese frosting. I forgot to buy cream cheese this week 😛  So I made a maple buttercream. It worked very well with the pumpkin cake. I went for a simple decoration with crispy almonds (mostly due to time constraints…i.e. a fussy baby and a 3 year old trying to help :P). I had to have a taste too of course. I can't make a new cake and not taste it 😛  It's times like this that I wish I could eat grains 🙂  Yum!!! This is a perfect fall treat. Not the best frosting job…but I had a little helper 🙂  Since we are doing letter F this week Rebecca got to Frost Grandpa's cake. We still need to work on her technique a bit 😉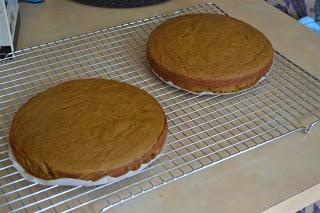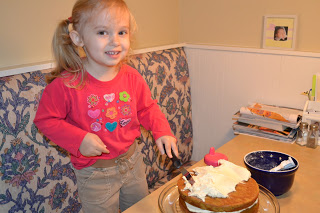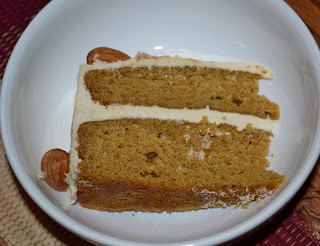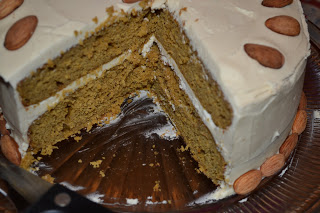 Pumpkin Spice Cake
1/2 cup unsalted butter, room temperature
1 1/4 cups light brown sugar
2 large eggs
1 cup fresh or canned pure pumpkin (about 1/2 of a 15 ounce can)
1 tsp. pure vanilla extract
2 cups sifted cake flour
1/4 tsp. baking powder
1 tsp. baking soda
1/2 tsp. salt
1/2 tsp. ground cinnamon
1/4 tsp. ground ginger
1/8 tsp. ground cloves
1/2 cup buttermilk, room temperature
Note: To make your own buttermilk combine 1/2 cup of milk with 1/2 tablespoon vinegar or lemon juice. Stir and let stand for 10 minutes before using.
For Garnish:
1/2 cup toasted and chopped walnuts or pecans
1 recipe maple buttercream (see recipe below) or cream cheese frosting
Preheat the oven to 350 degrees F and place rack in center of oven. Butter and flour (or spray with Baker's Joy) two – 8 inch (20 cm) cake pans (I use palm shortening and parchment paper…cake comes out perfectly every single time)
In the bowl of your electric mixer (or with a hand mixer), beat the butter and sugar until light and fluffy (about 2-3 minutes). Add the eggs, one at a time, mixing well after each addition. Scrape down the sides of the bowl as needed. Add the pumpkin puree and vanilla extract and beat until incorporated.
In a separate bowl, whisk together the flour, baking soda, baking powder, salt and spices. Add the flour mixture and buttermilk alternately to the pumpkin batter, in three additions, beginning and ending with the flour mixture. Divide the batter in half and then pour the batter into the prepared pans. Bake for approximately 25 – 30 minutes, or until a toothpick inserted in the center of the cake comes out clean. Cool on a wire rack for 10 minutes and then invert and remove the cakes from their pans. Cool completely before frosting.
Place one of the cake layers, top side down, on a serving plate. Frost with a layer of icing. Place the second cake, top side down, onto the first layer and frost the top and sides of the cake. Garnish with chopped nuts, if desired. Refrigerate but bring to room temperature before serving.
Maple Buttercream
1/2 cup butter, softened
1/2 cup palm shortening
3 cups powdered sugar
1/4 cup pure maple syrup
2 – 4 Tbsp. milk
Cream butter and shortening. Add sugar and maple syrup. Mix well. Add milk a little at a time until desired consistency. Use immediately or store in refrigerator.