This post may contain affiliate links which won't change your price but will share some commission.
Now that I've been eating raw sour cream for a few weeks I figured it was safe to finally make sour cream ice cream!! I've been anxious to make it for some time now. A dairy ice cream I can actually eat? I haven't had that since before Abram was born. And anyone that knows how much I love ice cream knows that 7 months without ice cream is like pure torture for me. The basic recipe comes from the GAPS book. This particular version and quantities are from Hanah at Gapalicious. I only made a half batch yesterday and mostly eyeballed quantities. It doesn't have to be exact. I made vanilla. Then I reserved a small amount and added some cocoa to try making chocolate.
Overall verdict…good! But after several tries now at making ice cream sweetened with honey I'm just not crazy about the flavor it gives vanilla ice cream. I may have to go non-GAPS and use maple syrup next time. Or maybe try using date paste. I am happy with the texture of the ice cream. And I like how safe/healthy it is. It's basically the same ingredients I use to make smoothies and russian custard…just in a frozen version. I'll have to play around with flavors. I really like the chocolate version I made (at the moment I allow myself a little cocoa). Crispy nuts would be a nice addition too.
This post is linked to Fat Tuesday on Real Food Forager.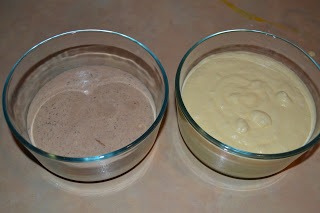 Sour Cream Ice Cream
4 cups sour cream
4 farm fresh eggs, separated
1/2 cup raw honey
1/4 cup vanilla extract
In a small bowl whip the eggs whites until stiff. In a separate bowl whip egg yolks until pale yellow and thickened.
In a large bowl whip together sour cream and honey until well combined and fluffy. Add the yolks and vanilla to the whipped cream and mix well. Then gently fold in the egg whites. Transfer the ice cream to a freezable container and freeze until solid.
If you want to make any variations just add your favorite combination in place of the vanilla.