This post may contain affiliate links which won't change your price but will share some commission.
I did it…I finally made butter! It only took four attempts 😛  And I still have one to go. Now that we get raw milk I've been trying to make as many dairy products from scratch as possible. Butter was on my list of things to try. And after reading my SIL's post about how to do it I thought it would be so simple. Well, it is…and it isn't. For my first attempt I skimmed some cream, put it in my stand mixer, turned on the mixer and waited…and waited…and waited…and waited (like 30+ minutes). All I got was whipped cream. I thought maybe I didn't skim the cream well. So I tried again the next week. I got the same results. I was starting to wonder if the milk fat content isn't high enough in our milk. I decided to give it one more try. I gave the milk an extra day for cream separation. And only skimmed the cream from the very top. But I got the same results. I gave up on making butter with our raw milk.
Then I ordered some cream from our co-op. I know it  has a very high fat content. This morning I tried using that to make butter. I put some in my mixer, turned it on and waited…and waited. After almost 15 minutes I was ready to give up and figured that for some reason I just can't seem to make butter. But I decided to try one last thing. I took the whipped cream out of my mixer, put it in a bowl and beat it with my hand mixer. And wouldn't you know it…I made butter!! The buttermilk separated nicely, and now I have a stick of freshly made butter in the fridge. And it was easy…like it's supposed to be.
After four attempts it seems as though my stand mixer is the problem. I'm not sure what is going on. I'll have to investigate that a bit. In the mean time, I have homemade butter 🙂  And now I need a fifth attempt using our raw cream again…with my hand mixer. I hope that will work.
Although it's been quite a trial for me, making butter really is very simple. My SIL has great instructions on her blog. I'll repost them here.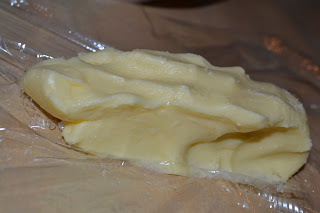 Homemade Butter
chilled cream (preferably raw)
Pour the cream into your stand mixer bowl with a wire whisk attachment on your mixer. Turn your mixer to a medium to medium-high speed and just let the mixer do the work (or mix it with a hand mixer like I do 🙂
Your butter should be done in about 10 minutes or so. (You can also use a food processor to make butter, but you don't want to use anything that will warm the cream as it churns (some blenders will do this).)
I want to also note that you should not try to make too much butter at once. The cream will expand and turn into whipped cream through the process of making butter, so you want to make sure you have plenty of room in your mixer bowl for this to occur. Once the butter and buttermilk start separating, it can also get kind of messy if you have too much (and sometimes even if you have too little) in the bowl as the butter splashes around in the buttermilk.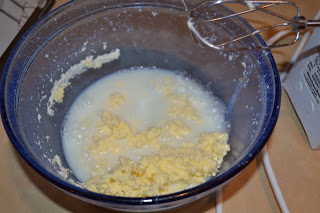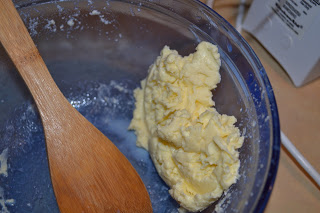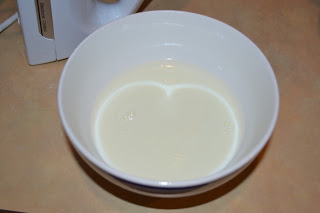 Once your butter has formed and the solids have separated from the buttermilk, pour everything through a strainer. The liquid milky stuff is buttermilk. It won't look like the buttermilk you buy in the store – it won't be thick – but you can use it as you would buttermilk… in baking, in smoothies, for soaking grains, etc. I often will freeze mine if I don't have a use for it that week.
Transfer your butter to a clean bowl. Now it's time to wash your butter. Sounds kind of funny, doesn't it? Well, you need to wash it to make sure you extract all of the buttermilk. This will make your butter last much longer.
To wash the butter, you will need to add cold water to the butter. Don't add too much so your not splashing all over the place, but add enough to wash. Use a wooden spoon to press and fold the butter. This will extract the buttermilk. Pour the water off (don't save this stuff). And add more cold water to repeat the pressing and folding. You will need to repeat this step until your water remains totally clear. At that point, you've removed all of the buttermilk from the butter. Remember – the cleaner the butter, the longer it will last.
Pour off the clear water. Press and fold your butter a few more times to extract any remaining water. Pour that off. Now you can mix in salt, if you want. I don't, as I find it more convenient to add salt when I use the butter.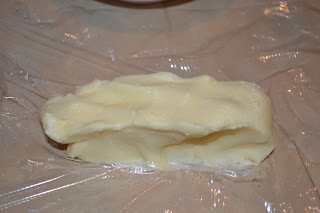 If you have a butter mold, transfer your butter to the mold. I don't have a mold, so I just plop the butter onto a sheet of parchment paper or natural wax paper and shape it into a rectangular cube. Then I fold up the sides to seal it and place it in the refrigerator or freezer. I freeze most of the butter I make fresh for later use, but if I know I'll be baking or needing a lot of butter during the week, I'll keep the fresh stuff in the fridge. It will keep for 2-3 weeks in the refrigerator.
** NOTE: If you do not have access to real milk, you can follow this same process using the cream you skim from non-homogenized, pasteurized milk, or from a carton of good, quality heavy cream.