This post may contain affiliate links which won't change your price but will share some commission.
I made quite a spread for our Christmas brunch this week. But I did take one item off the menu because I just didn't have time to prepare it. So I made it for dinner last night – baked spinach. I found the recipe on Breakfast and Brunch Recipes. It is super easy. I really liked it. I think I ate half the pan last night 😛  Justin thought it would be better as a dip than as a side dish, but still thought it was good. This can be GAPS legal if you use homemade raw sour cream. It's a great way to get more veggies in your diet. As expected Rebecca didn't eat much…too stringy. But she did really like the flavor. Preparing this was even easier for me last night. I had a bunch of leftover ranch veggie dip (just a mix of sour cream and homemade ranch mix). So I just mixed that into the spinach instead of sour cream and separate seasoning. For cheese I used a mix of parmesan, sharp cheddar and mont. jack. I only made a half recipe.
This post is linked to Fat Tuesday at Real Food Forager.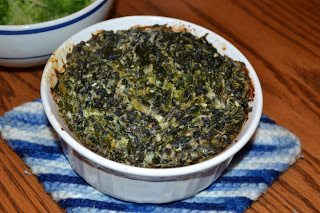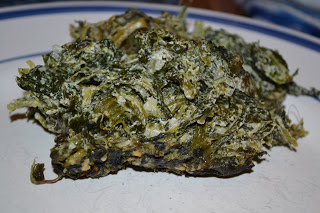 Baked Spinach
3 packages, frozen, chopped spinach (10-ounce package size)
2 cups sour cream
1 package dried onion soup mix (I used homemade ranch dressing mix)
1/4 cup Parmesan cheese, or more (I used more than this. Any kind of cheese will work)
Take the spinach out of the freezer the night before. When it has been thawed, place it between layers of paper towels and squeeze the water out of it until dry.
Mix together the spinach, sour cream and soup mix. Add the grated Parmesan cheese and stir until well combined.
Grease a 9″ x 9″ square baking dish. Press the spinach mixture flat with a spoon or spatula.
Bake for 45 minutes at 350 degrees.
Serves 6.