This post may contain affiliate links which won't change your price but will share some commission.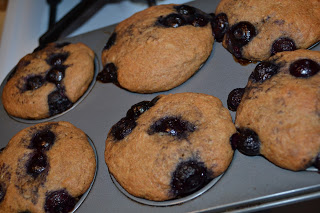 I had some buttermilk to use up, so I looked in my Nourishing Traditions cookbook for a recipe. I came across the Basic Muffin Recipe. A super simple soaked muffin that you can make in just about any flavor you want. I baked a batch of blueberry muffins this morning. Very good! And very easy. Now that I'm hoping to try a small amount of grains soon, and since I'm trying to really get back on track with healthy eating for the whole family, I figured it was good to get back into the habit of soaking grains. This is a great basic recipe. I'll use it again for sure.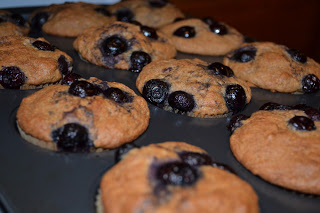 Soaked Whole Wheat Muffins
makes 15-20
3 cups whole wheat flour
2 cups buttermilk, kefir or yogurt (I used half buttermilk and half yogurt)
2 eggs
1 tsp. salt
1/4 cup maple syrup
2 tsp. baking soda
1 tsp. vanilla extract
3 Tbsp. melted butter
Soak flour in buttermilk, kefir or yogurt in a warm place for 12-24 hours (muffins will rise better if soaked for 24 hours). Blend in remaining ingredients. Pour into well greased muffin tins (I used paper muffin cups) about 3/4 full. Bake at 325 for 1 hour.
Variations:
Raisin – add 1/2 cup raisins and 1/2 tsp .cinnamon
Blueberry – add 1 cup fresh or frozen blueberries (do not add them to the batter, place them on top of the muffins after filling the tin so they don't sink to the bottom)
Dried cherry – add 4 oz. dried cherries and 1/2 cup chopped crispy pecans
Fruit spice – add 2 ripe peeled, chopped pears or peaches, 1/2 tsp. cinnamon, 1/8 tsp. cloves, 1/8 tsp. nutmeg.
Lemon – add grated rind of 2 lemons and 1/2 cup chopped crispy pecans
Ginger – add 1 Tbsp. freshly grated ginger and 1 tsp. ground ginger. Omit vanilla.