This post may contain affiliate links which won't change your price but will share some commission.
We had a little extra milk this week, so I did a quick search for a recipe to use some of it. I came across a very simple recipe for Farmer's Cheese on All Recipes. I decided to try it. But I followed some of the comments and used vinegar instead of lemon juice. Making this cheese was super easy. And it's really good! A very mild cheese. You can add any flavors to it you like. I just added a little salt. Rebecca loves it. She really enjoyed spreading it on crackers. This does require a lot of milk for not a lot of cheese (I think 1 gallon of milk gives about 1 cup of cheese). So I won't be making it often. But it is fun once in a while. I didn't use a full gallon of milk. I didn't want to waste that much if it didn't work. I'll post it with the ratios I used. After making the cheese you are left with quite a bit of whey. You can save it and drink it or use in baking and ferments.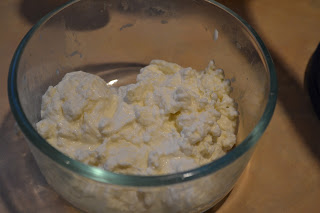 Farmer's Cheese
4 cups whole milk
pinch salt
1/3 cup white vinegar
seasoning to taste
Pour the milk into a large pot, and stir in a pinch of salt. Bring to a boil over medium heat, stirring occasionally to prevent the milk from scorching on the bottom of the pot.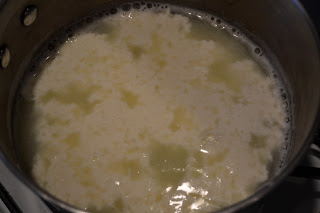 When the milk begins to boil (small bubbles will first appear at the edges), turn off the heat. Stir the vinegar into the milk, and the milk will curdle. Let it set 5-10 minutes.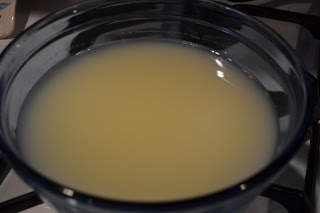 Line a sieve or colander with a cheesecloth, and pour the milk through the cloth to catch the curds. What is left in the cheesecloth is the Farmer's Cheese. The liquid is the whey. Gather the cloth around the cheese, and squeeze out as much of the whey as you can. Place it in a container and add any seasonings you like. Store in the refrigerator.