This post may contain affiliate links which won't change your price but will share some commission.
For lunch on Saturday I made a batch of broccoli noodle soup (trying to use up some milk). This is a recipe from my MIL. A soup Justin grew up eating. It's very simple to make and very filling. You could make it healthier by using homemade noodles. I used wide egg noodles. And you can use any kind of cheese you like. The original calls for Velveeta. I used sharp cheddar. You can add any veggies you like. I added a few carrots and peas in addition to the broccoli. I'll post the recipe the way I make it.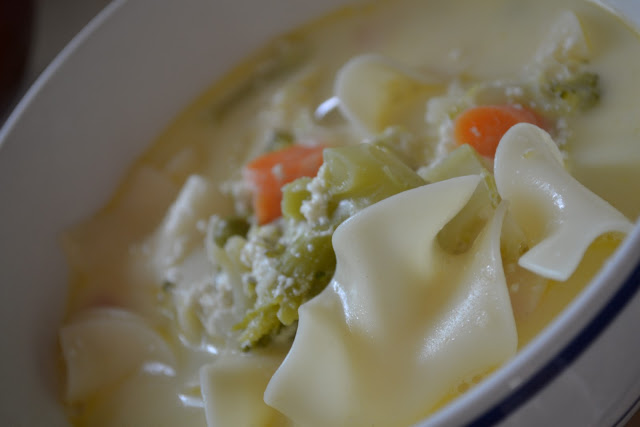 Broccoli Noodle Soup
2 Tbsp. butter
1/4 cup chopped onion
1 1/2 cups chicken broth
1 cup noodles (homemade or egg)
2 tsp. salt
1 tsp. garlic powder
1 cup chopped broccoli (I use frozen)
1/2 cup chopped veggies (carrots, peas, beans, etc.)
1 1/2 cups whole milk
1/4 – 1/2 cup cheese (cheddar, mont. jack)
Saute onion and veggies in butter about 4 minutes. Add broth. Cook 3 minutes. Add noodles and seasoning. Cook 5 minutes. Add broccoli. Let simmer 5 minutes. Add milk and cheese. Cook until soup is hot and cheese is melted.