This post may contain affiliate links which won't change your price but will share some commission.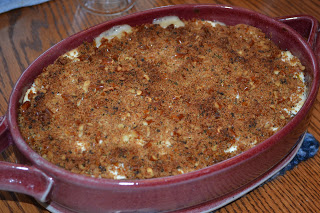 I don't often make Rachael Ray recipes. In my opinion most of them have too many ingredients, require too many steps and generate too many dirty dishes. The food may be good, but it's just not my style of cooking. I did, however, make one of her recipes for dinner last night – roasted cauliflower au gratin.  I saw her make it on her show recently and it looked so good! And it was. I think I could have eaten the whole thing myself 😛  The whole family enjoyed it. I served it as our main dish. It would make a great side dish. Or you could add bacon, chicken or ham to make it a more complete main dish. As always it did require some work and some clean up. But I prepped it in the morning and got the kitchen cleaned up. So when it was time for dinner all I had to do was pop it in the toaster oven. No time in the kitchen and no mess to clean up after dinner. Perfect for a summer-like winter day 🙂  This is definitely a keeper recipe! I didn't follow the recipe exactly. I only used 1 head of cauliflower. I also used a combo of milk, kefir and chicken broth for the cream sauce and didn't make a full batch since I was using less cauliflower. I'll post the original recipe with my mods in ().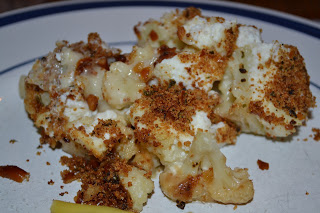 Roasted Cauliflower Au Gratin
2 large heads cauliflower
3 Tbsp. EVOO
Salt
For the Topping:
2 Tbsp. EVOO
3 Tbsp. butter
1 garlic clove, grated (I used about 2 tsp. minced garlic)
Zest of 1 lemon (I didn't add this)
2 Tbsp. parsley, chopped (I used 1 Tbsp. dried parsley)
1 cup breadcrumbs (I used a combo of whole wheat bread crumbs and crushed pretzels)
For the Sauce:
2 Tbsp. butter
4 Tbsp. flour
2 cups milk (I used a combo of milk, kefir and chicken broth)
Salt and black pepper
Freshly grated nutmeg
1 cup ricotta cheese
Preheat oven to 400°F. Chop cauliflower into medium to large bite-size florets. Toss cauliflower with EVOO and salt. Roast on a baking sheet until just barely tender but slightly crispy, about 15 minutes.
*I roasted my cauliflower the way I always do – lots of EVOO and salt. I roast it for more like 40 minutes.
For the topping, in a large skillet over medium heat, add EVOO and butter. When butter melts, add the garlic, lemon zest and parsley, and cook for 1-2 minutes or until fragrant. Add breadcrumbs and toast until golden. Transfer to a bowl and reserve.
Meanwhile, make the sauce: Melt butter in a saucepot over medium heat. Stir in the flour and cook a few minutes, stirring constantly, until it starts to smell slightly nutty. Stir in milk, salt, pepper and nutmeg, and bring to a simmer. Remove from heat and reserve
Mix the cauliflower and sauce in a casserole dish, then dollop with ricotta.
*At this point I covered it and stuck it in the fridge
. If you are baking it immediately:
 Bake 15 minutes at 375, until golden brown. Finish it with a sprinkling of the breadcrumb mixture and a squeeze of lemon juice over top.
If you are baking it later:
Bake, covered, at 350 for about 35 minutes. Remove cover. Top with breadcrumbs. Bake another 10 minutes.