This post may contain affiliate links which won't change your price but will share some commission.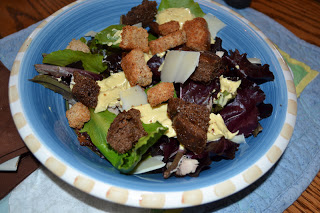 I've never really been a huge fan of caesar salads. I never really cared for the dressing. But my tastes have changed a lot in the last few years. So recently when I was looking through NT I saw a recipe for caesar dressing. I decided to give it a shot. It was super easy to make. And it tastes pretty good. Justin and I both like it. I wouldn't want to eat it all the time, but definitely good once in a while to have something different. It did turn out quite thick. So I'd probably add a little more oil or vinegar next time. There was one other reason I wanted to try this…it has anchovies! I've never eaten one (that I know of). But I've wanted to try them for a long time. You can't tell they are in the dressing. They just add a little nutty flavor to it. I have some left now. I hope to use them some other way soon. I want to cook with them. The NT recipe says to use a blender to make this. I used a glass jar and my immersion blender. So quick and less mess. The dressing stays in the jar you mix it in.
We used this last night for caesar salads with bacon, chicken, avocado, Parmesan and homemade garlic croutons. A very refreshing dinner for the last day of winter…that was in the 80's 🙂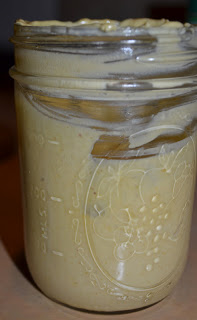 Caesar Dressing
1/2 – 1 tsp. dijon mustard (I just used yellow mustard)
1 Tbsp. raw wine vinegar (I used white vinegar)
1 Tbsp. lemon juice
1 Tbsp. finely grated parmesan cheese
1/2 cup EVOO
1 Tbsp. expeller-expressed flax oil (I didn't add this)
1 egg yolk
2 anchovy filets
1 clove garlic, peeled and mashed
Place all ingredients in food processor and blend until smooth. Or place in a wide mouth pint jar and mix with an immersion blender.