This post may contain affiliate links which won't change your price but will share some commission.
A sleepy good morning to everyone. Our little non-sleeper…is sleeping even less. I didn't think it was possible. But it seems that waking up at 2am…and not really going back to sleep is just fine with Abram. We're kind of struggling trying to figure this out. We try orajel, Tylenol, tummy drops, diet changes, rocking, nursing, diaper change, letting him cry…nothing works. He just won't sleep. Justin and I are getting pretty tired. I wish Abram would too 😛  Maybe it's because of a growth spurt? He is really taking off with walking. I don't know. I just hope it's done soon whatever it is.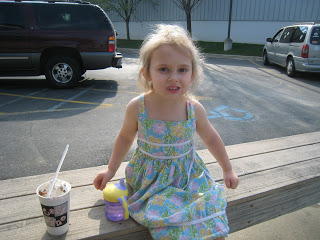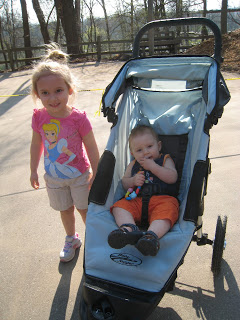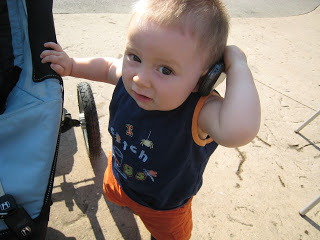 Anyway, last week was a fun one. We didn't have much going on in terms of errands, etc. But we stayed busy with fun activities. We made our first trip to Cone World. Rebecca and I enjoyed the ice cream, but we could have done without her flip backwards over the bench on to the concrete…on her head :\  We were supposed to have a park playdate one day, but it got cancelled. So we went to the playground at the elementary school instead. We also went to the zoo. And we went to another second hand sale. Yesterday we all walked to the local bike shop and got new helmets for Rebecca and Abram. It'll be fun to try putting them both in the bike trailer soon 🙂
The kitchen wasn't quite as busy as some weeks. I made yogurt, sour cream, caesar dressing, croutons, pizza crust, bread and buns. Yesterday Rebecca and I made a batch of chocolate chip cookies. It's been a while since we've baked any goodies. So that was a nice treat for her. I also finally finished one of Abram's bibs.
This week will be a bit busier. Today is church. Monday is milk pick up. Tuesday is Kindermusik. Wednesday is Meijer and possibly another playdate (try last week's park date again if the weather is nice). We might try to meet other friends at the park another day. Friday my SIL and nephew are coming to town. We'll all go shopping at Hop Scotch, then out to lunch. And possibly go to the zoo for a bit in the afternoon, depending on the weather. Saturday we are having an energy audit done on the house.
I would like to do some baking this week. My freezer supply is getting pretty low. I want to make some type of breakfast baked good(s). I'm thinking muffins at least. I also want to make a new batch of soaked cereal, sour cream, yogurt and pesto. I want to make a batch of ice cream. I froze some of our cookie dough yesterday so I can make homemade cookie dough ice cream 🙂  That will probably keep me plenty busy.
My neverending updates – I finally got Diet Recovery and 180Degree Digestion. Tons of great info. But still plenty of stuff to figure out. I can't say I had a great week for sure. I think that it is largely due to lack of sleep and stress. With Abram up so early I have lost almost all free time/relax time. And that is something I desparately need. So I'm struggling. Abram has figured out how to open the office door, so it's hard to even keep him contained in the room with me now. And while we are in here he gets into EVERYTHING. I am trying to do my best to keep eating and keep pushing forward. But it's tough. On a positive note, my weight has stayed the same for 2 weeks straight now. Maybe things are stabilizing a bit. Now I just have to figure out how to get my digestion back on track. I'm sure I'm still working on adjusting to no miralax. That takes a long time. And I know I don't make the best food choices every day. I'm trying. I'm also really trying to give it all to God and not worry. He is in control, so there is no need for worry. Worry really accomplishes nothing. So what's the point, right? Too bad my brain doesn't understand that 😛
I better get on with the menu before Abram breaks something. Here are the plans for now.
——————-
S (church, nursery, grind flour, soak flour, class)
  B – soaked donut, apple cinnamon yogurt
  L – bbq ribs, baked potato, broccoli
  D – leftover bacon egg casserole, veggies, fruit
M (make yogurt, bake oatmeal muffins, milk, prep smoothies, make pesto)
  B – muffins, mixed fruit
  D – leftover brats, chips, peas, pears
T (skim cream, make sour cream, KM, make ice cream)
  B – oatmeal muffins, smoothie
  D – ham, roasted squash, beans
W (soak flour, prep dinner, Meijer, park/playdate, soak flour for granola and muffins)
  B – smoothie, breakfast cookies
  D – split pea soup w/ ham, ww rolls
Th (make bread/buns, make yogurt, make kefir, make soaked granola )
  B – hard boiled egg, toast
  D – sloppy lentils on soaked buns, beans sausage pancake muffins, roasted veggies, fruit
F (HS/lunch/zoo)
  B – yogurt, fruit, granola
  D – stuffed french toast, grilled ham and cheese, broccoli, peaches
S (clean, energy audit, compost?)
  B – leftover pancake and sausage muffins
  D – pizza burgers, salad