This post may contain affiliate links which won't change your price but will share some commission.
I wouldn't normally post a recipe for grilled cheese. Most people know how to make grilled cheese. But this one is  a bit different. It's from my Deceptively Delicious cookbook. I did some last minute change of meal plans yesterday. I had taken squash out of the freezer for risotto…but then didn't feel like making it. So I was trying to think of what else to do with the squash. I found this recipe. It worked great! We all enjoyed it. A delicous grilled cheese…with some veggies added 🙂  The funny part is that it looks like they are made with American cheese. In reality all of the cheese I used was white. I didn't follow the recipe exactly. I just shredded a mix of cheeses (cheddar, parm and mozzarella) and mixed in some squash and a little softened butter. I didn't measure anything. I made a bit more than we really needed, so our sandwiches were pretty full. But still delicious! I will definitely try this again. You can probably do it with quite a few different veggies, depending on what color you want your cheese to be 🙂  The recipe says sweet potatoes or squash. I'll post the original recipe…minus the reduced fat cheese and "trans fat free margarine spread"…shudder 😛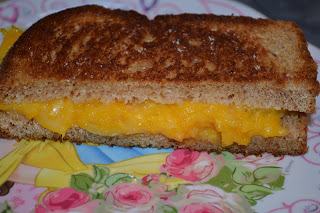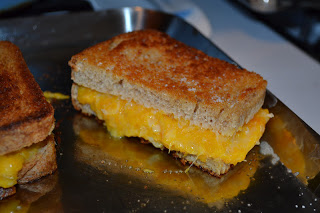 Grilled "Cheese"
1/2 cup shredded cheddar cheese (or any cheese you like)
1/2 cup sweet potato or butternut squash puree
1 Tbsp. softened butter
1/4 tsp. salt
4 slices whole wheat bread
Mix the cheese, puree, butter and salt.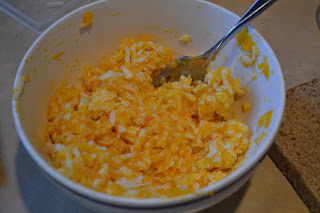 Spread on two slices of bread. Top with the other two slices. Coat a griddle with butter. Cook sandwiches on both sides until golden and the filling is melted.