This post may contain affiliate links which won't change your price but will share some commission.
I also made a batch of lemon bars for Justin's birthday treats. This is another recipe from my MIL. It's a simple recipe. I'm generally not a huge fan of lemon bars, but these are good. Justin says they aren't that sweet (not as sweet as some lemon bars). I think they are quite sweet. Just depends on your taste buds I guess 😛  Again, I subbed more natural ingredients for most of this. But I did still use the powdered sugar. These turned out well. The only issue I had was that they took way longer to bake than the recipe said. After 20 minutes the middle was still totally liquid. I ended up baking them for about 40 minutes.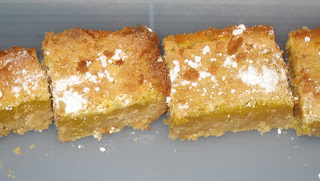 Lemon Bars
1 3/4 cups flour (you can use whole wheat flour)
1 cup butter (cold)
1/2 cup powdered sugar (you could probably sub cane sugar and the crust would still taste fine)
4 eggs
2 cups cane sugar
1/4 cup lemon juice (juice of about 2 lemons)
4 Tbsp. flour (I would use AP flour for this since it is for thickening. You could also try corn starch or arrow root)
1 tsp. baking powder
1/4 tsp. salt
Cut butter through flour and powdered sugar (I did this in the food processor. Makes it very simple). Pat dough into a greased 9×13 pan. Bake at 350 for 20 minutes.
While dough is baking prepare lemon filling. Beat eggs. Add sugar, lemon juice, flour, baking powder and salt. Mix well. Pour over crust. Bake for about 40 minutes (until center is set). Sprinkle with powdered sugar. Let cool before cutting.