This post may contain affiliate links which won't change your price but will share some commission.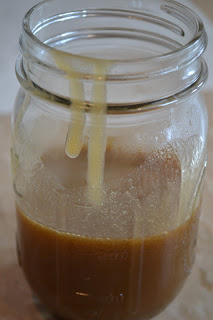 Tuesday we made some awesome caramel sauce with our extra cream. But I didn't use all of the cream. So yesterday we used a little more and tried butterscotch. I got the recipe from Smitten Kitchen. It is so simple to make (only takes about 5 minutes) and is sooooo good. I like the butterscotch even better than the caramel. Rebecca and I sampled a little on homemade vanilla ice cream. A little piece of heaven 🙂  I think we might have homemade butterscotch sauce on hand more often now 🙂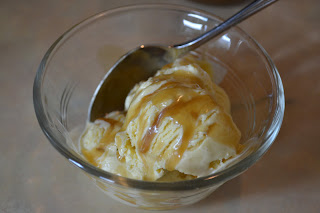 Butterscotch
1/4 cup (1/2 stick) unsalted butter
1/2 cup packed organic brown cane sugar or sucanat
1/2 cup heavy cream
1/2 tsp. unrefined sea salt, plus more to taste
1 1/2 tsp. vanilla extract, plus more to taste
Melt butter in a medium heavy-bottomed saucepan over medium heat. Add the sugar, cream and salt and whisk until well blended. Bring to a very gentle boil and cook for about five minutes, whisking occasionally.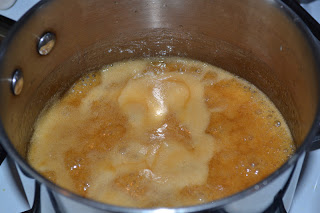 Remove from heat and add one teaspoon of the vanilla extract, stirring to combine. Dip a spoon in the sauce and carefully taste the sauce (without burning your tongue!) to see if you want to add additional pinches of salt or splashes of vanilla. Tweak it to your taste, whisking well after each addition (I used about 3/4 tsp. salt and 1 1/4 tsp. vanilla).
Serve cold or warm over vanilla ice cream. The sauce will thicken as it cools. It can be refrigerated in an airtight container and reheated in a toaster oven or small saucepan.