This post may contain affiliate links which won't change your price but will share some commission.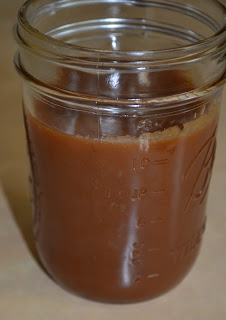 Every week I skim some cream from our fresh milk. Most weeks I have a purpose for it…and often wish there was more! This week I didn't have an urgent need for it. I have plenty of sour cream. I think we are even good with homemade ice cream. So I decided to make caramel sauce…something to go with our fabulous homemade ice cream 🙂
I've made caramel before, but it never seemed to work properly. I followed the directions, but I would cook it and cook it and cook it and never get it up to temp. So I decided to try a new recipe. I found one that looked simple on Lick My Spoon for Salted Caramel Sauce. There are good step by step directions. And you don't have to monitor the temperature.
I gave it a go yesterday. It turned out very well. And it was quite quick and simple. I just made regular caramel, not salted. But I'm sure that would be very good too. It tastes great right after making it. As it cools it gets a lot thicker. It would be great for dipping apples when it's cold. You simply warm it a bit to soften it to use on ice cream. Homemade caramel is a simple and delicous treat.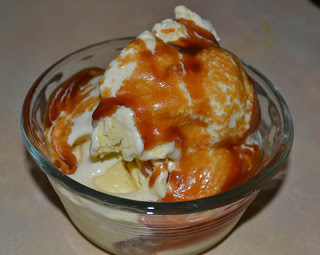 Caramel Sauce
1 cup cane sugar
6 Tbsp. unsalted butter, cut into chunks
1/2 cup heavy cream
1/4 cup water
Heat the sugar and water in a 2-quart or 3-quart saucepan over medium-high heat. Stir to help the sugar dissolve, but stop stirring when the sugar comes to a boil. You can swirl the pan a bit if you want.
When the liquid sugar hits a dark amber color, add all the butter to the pan. The mixture will foam up and thicken. Whisk until the butter has melted. Once the butter has melted, take the pan off the heat.
Add the cream to the pan (the mixture will foam up again) and continue to whisk to incorporate.
Let cool in the pan for a couple minutes, then pour into a glass jar and let cool to room temperature. Don't worry if the sauce seems a bit too thin at first, it will thicken as it cools. Store in the refrigerator. Warm before serving to loosen it up again.