This post may contain affiliate links which won't change your price but will share some commission.
Thank you to all those that have served and those that still do serve our country! Happy Memorial Day (weekend).
It's unofficially the start of summer…and it sure feels like it! It's supposed to be in the 90's for the next couple days. Back to trying to plan my kitchen work based on the weather forecast 😛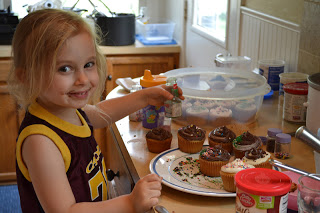 Last week I ended up doing more than I had expected in the kitchen. I made butterscotch pudding, kefir, soaked graham crackers, soaked bread, sour cream, 2 batches of ice cream (vanilla and chocolate), sd bread, yogurt, granola bars (modified them by grinding the oats…really seems to help Rebecca with the chewing/texture issues with oats), pesto, mayo, cupcakes (I had lots of frosting to use up from birthday cakes) and chicken broth. It kept me busy, but it sure was tasty 🙂  We also finally managed to run all of our errands – Meijer, Heffron Farms and Target.
This week won't be quite as busy I don't think. Today is church. Monday Justin has vacation. We might go to the local parade. I have to get milk. Wednesday I am going to try hot yoga. I'm sure it will be quite challenging, but hopefully fun too. Friday I am meeting one-on-one with my yoga instructor to talk about some specific stuff for me. That's it for now. I might try to get to the library one day. Rebecca could use some new books. I might try to set up a playdate or two. And Rebecca and I have not done a May mommy/daughter date yet! The one I was trying to plan fell through. So we'll see if I can come up with something this week yet.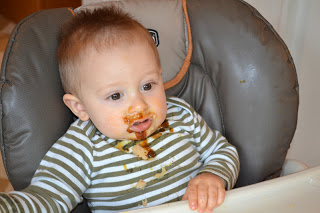 I would like to do some baking this week if possible. It'll have to be first thing the morning when it's still cool. I would like to make a new batch of cereal, soaked graham crackers and caramel. I might experiment with toddler snacks (for the never ending dilemma…what do we feed Abram that he won't immediately spit out?) and modified oat snacks (I'm experimenting with recipes that have oats to either make them oat free or use ground oats so that Rebecca can chew them better). I have some food planning to do for next week. I'll need a dessert for a church event, and I need to coordinate food with my sister for a girls day for my SIL next week. I will also have to start thinking about food preservation soon…the farmer's market finally starts next week!! We should really defrost at least one of our freezers before restocking. So maybe I'll try to do it this week.
I'm trying to hit the reset button right now 😛  My inflammation has really flared the last couple days…which means weight gain, drop in temps/lower metabolism, moodiness (every little thing bugs me…I apologize to my family!), acne and poor digestion. It's from a combo of lack of sleep (a couple rough nights with Abram) and diet. I had a few too many nuts, too much fiber/raw veggies, too much wheat and too much pork/chicken fat/meat in a short amount of time. I still really struggle with moderation and balance. If I make something that I really like I have a hard time controlling my portions. I'm sure that making two batches of ice cream and cupcakes didn't help either. Now I need to get back on track and really try to keep things balanced. I've had so many years and diets of restrictions. Now I have a hard time not going overboard when I am "allowed" to eat the things I really like. I can't tell my body that I don't have to binge on something… I will be able to eat it again. I don't have to pig out now. Once I start eating it's hard to stop. It's definitely part of the eating disorder/mental issues I've struggled with for years (started in high school). It's a starve/binge mentality that is soooo unhealthy. It's not something that I do consciously anymore (I'm not trying to under or over eat). But it's hard to rewire your brain. But I have to. I think that will have one of the biggest impacts on my health. If I can train my brain what moderation means I won't have so many ups and downs. Lately I'm always on this roller coaster of having a few good days then going overboard with something. Then I have to recover. Then it starts over. I think that will be one of my main goals next month…but it sure won't hurt to start now! So for now I need to stick to my basics – chicken broth, soft/pureed veggies (pumpkin, squash, well cooked beans, peas, etc.), soft fruits (pears, blueberries), healthy fats, light proteins (eggs, dairy, chicken) and some soaked wheat products. I have to balance the wheat with other stuff, but I do need some. If I eat totally grain/starch free then my colon gets spastic. There isn't anything to soak up liquids, etc. Again, it's all about balance. That's where I'm at. In some ways I feel like I'm really figuring things out. In some ways I'm still totally confused. I need balance/moderation and shifting my focus from food to other stuff. I still have a lot of psychological food issues to get past (things that I know now aren't true/aren't healthy but seem to be hard wired in my brain now). I am trusting that God is in control and he has a plan. He can heal my mind and body.
I hadn't really intended to even do an update on myself. But I guess I had some stuff in my head that I needed to get out 🙂  And it really helps me to move on when I can write it out/organize my thoughts. So hopefully this week will be a better one now that I have more direction.
Here's what's on the menu for now. I may have to be creative with side dishes. I just realized I only have two potatoes left and no rice…and I won't be going to the store until next week. I discovered yesterday that the rice in my cupboard is not good. I've had issues with it cooking the last couple times I used it. Last night it took 2 1/2 hours for it to absorb liquid/get soft. So I tossed the rest. I think I have some couscous, quinoa, arborio rice and pasta. Maybe this will force me to be a bit more creative 🙂  I might also be adding salads to some meals since we are now getting lettuce from our garden! Rebecca was so excited to eat a salad with lettuce from her own little garden yesterday. Want your kids to eat fresh veggies? Let them grow their own 🙂
—————-
S (prep breakfast, strain/freeze chicken broth, prep lunch, boil eggs, church, prep smoothies, soak flour, freeze butter beach)
  B – strawberry yogurt, granola, banana
  L – cp pork steak with carrots and rice
  D – picnic at the beach – egg salad sandwiches, chips, grapes, avocado, banana milkshakes, sauteed zucchini and mushrooms, corn, chips
M (make cereal, make graham crackers, soak flour, parade, milk, prep smoothies, strain kefir)
  B – smoothie, TBD from freezer (in the car) – breakfast cake, grapes
  D – grilled steak, grilled asparagus, warm potato salad / grilled zucchini and mushroom warm salad
T (make cereal, make graham crackers, skim cream, make caramel sauce)
  B – cereal w/ milk, fruit maple pecan scones, smoothie
  D – chicken nuggets, chips, peas, russian custard w/ strawberries
W (make yogurt, yoga)
  B – smoothie, TBD from freezer cereal w/ milk
  D – (prep ahead) – cp roast beef and veggies
Th (soak beans, make baby snacks, make Rebecca's recipe, soak bread)
  B – yogurt, granola, fruit
  D – salmon cakes, squash, fruit
F (bake breakfast, prep dinner, yoga)
  B – overnight french toast bake
  D – (prep ahead) – cp salsa chicken and black bean soup
S (clean)
  B – overnight french toast bake
  D – baked egg puffs, beans, fruit, toast