This post may contain affiliate links which won't change your price but will share some commission.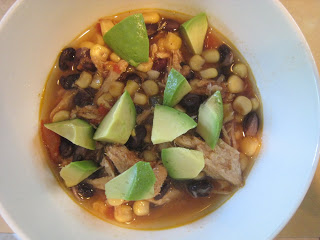 For dinner last night I tried a new soup recipe. I saw it on my SIL's blog. It's originally from A Year of Slowcooking. So easy and so good!!! Plus I got to try my sprouted black beans. This only took a couple minutes to throw together. Love that. I served it with avocado, cheddar cheese and tortilla chips. I had sour cream, but none of us used it. I only used about half the amount of liquid since I didn't want a huge batch. Worked very well. Still plenty leftover for another meal.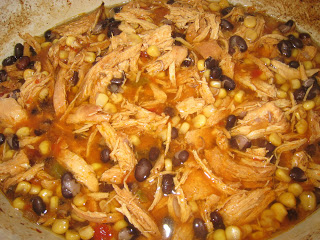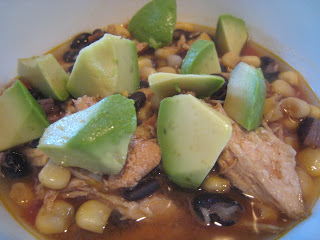 Crockpot Salsa Chicken and Black Bean Soup
1 pound chicken (I used one large chicken breast)
1 cup dried black beans (or 2 cans, drained and rinsed) (I used about 1 1/2 cups sprouted and cooked beans)
4 cups chicken broth (I used 2 cups water plus some salt, garlic powder and chili powder)
1 cup sliced mushrooms (I didn't add these)
1 cup frozen corn
1 jar prepared salsa (16 oz) (I used a pt. of homemade salsa)
1 1/2 tsp. cumin
1/2 cup sour cream (to stir in at the end) (we didn't use this)
shredded cheddar cheese, avocado slices, cilantro (all optional)
I used a 6 quart crockpot. You will need a 4 quart or larger.
If you know you are going to make this the night before soak the black beans in enough water to cover and another 2 inches overnight. In the morning, drain the water and rinse the beans. (Or you can sprout your beans.)
If you don't have super hard water or live in a super high altitude, you can quick soak the beans by pouring boiling water over them and let them sit for an hour or two.
Drain and rinse the beans. Add to the crockpot. Put in the chicken, and add the broth and salsa. Pour in the corn and mushrooms, and add the cumin. Stir, but don't disturb the beans – let them stay at the bottom of the pot, closest to the heating element.
Cover and cook on high for 9 hours (if you are using dry, unsoaked beans…not recommended for anyone with digestive issues :).
If you are using beans you soaked overnight, canned beans, or pre-cooked beans, you can cook on low for 6-8 hours, or on high for 4-5 -similar to normal soup-cooking time. (I added my cooked beans during the last hour…I didn't want them to cook any more than they already had.. I just wanted them warmed.)
If you'd like to thicken the broth, you can use your immersible blender to blend a bit of the beans and chicken. If you don't have one, scoop out 2 cups of the soup and carefully blend in your traditional blender. Stir the mixture back into the crockpot.
Stir in the 1/2 cup of sour cream before serving (optional). Garnish with shredded cheese and avocado slices.