This post may contain affiliate links which won't change your price but will share some commission.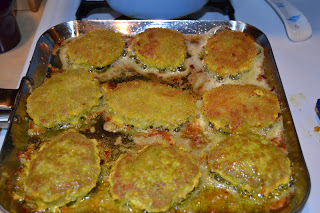 Last night for dinner I was going to make zucchini sausage muffins. But it was a HOT day. So I didn't really want to turn on the oven. So I figured I'd make zucchini sausage cakes instead. I already had zucchini and sausage thawed. But the zucchini was not cooperating and was super stringy…which I knew Rebecca would not touch. So I came up with a new recipe for pesto sausage cakes. I happened to make a fresh batch of pesto yesterday morning. I also happened to make a fresh batch of mayo in the morning…which worked out well…I served these with pesto mayo. These cakes turned out very well! And they were really easy to throw together. I used ground pork. Ground chicken or turkey would work well too. I don't measure ingredients when I make this kind of food, but I'll try to give a rough estimate of quantities. If you want to make this grain free you can use coconut flour in place of the bread crumbs. I made 6 cakes with a bread crumb coating and 3 without. It works well either way. I like the crunchy coating, but it's easier for the kids to eat without it.
I'm happy with how well these turned out. Even Abram kept saying "mmmm" as he was eating his. I liked them so much I had another one for bedtime snack and another one for breakfast today 🙂
This post is linked to Fat Tuesday at Real Food Forager.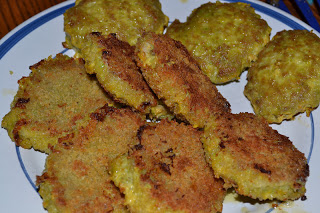 Pesto Sausage Cakes
1 lb. ground pork, chicken or turkey
1/2 cup pesto (My pesto is nut and dairy free. It is just peas, evoo, salt and garlic blended together. Use whatever kind you like.)
1 egg
1 egg yolk
1/4 cup bread crumbs or coconut flour (optional, but it helps bind things together)
salt, garlic powder, cumin to taste
bread crumbs or coconut flour to coat (optional)
fat for cooking (palm shortening, coconut oil, lard, butter)
Mix meat, pesto, eggs, bread crumbs and seasoning. Form into 8-10 patties. Coat patties in bread crumbs or coconut flour. Heat fat in skillet over medium heat. Cook patties in fat until cooked through, about 8 minutes per side.
Serve with extra pesto or pesto mayo (mix equal parts pesto and mayo).