This post may contain affiliate links which won't change your price but will share some commission.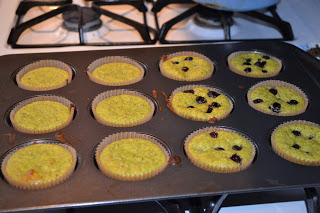 Last week I made cold beet soup. In the post on Health, Home and Happiness where I got the recipe was a link for zucchini muffins that sounded good. So I tried them yesterday. These are about the easiest muffins to make. I made them in a couple minutes while I was unloading groceries 😛  And they are really good! As is, they are kind of a savory muffin, so I added a little honey for sweetness. They have a very mild flavor. I also added blueberries to half of them. It's good. But I think I like them better without the berries. I bet cinnamon and raisins would be really good. They are definitely an eggy type muffin. This recipe is a very good base. I want to play around and see what other combinations I can come up with. I made the batter in the food processor and used 1/2 crispy almonds and 1/2 almond flour. I also only made a half recipe. I got 12 medium size muffins out of it. I didn't have time to grease a muffin pan. I just used paper liners and omitted the tallow. Worked fine. I served these with fresh pea soup for dinner, had some with butter for a snack and had some with cashew butter for breakfast. They are good any time of day!
*Edited 8/5/11 – I made a batch of sausage zucchini muffins last night for dinner (added 1 lb. of cooked sausage to the batter…although any ground meat w/ some seasoning would work fine). So good!! Especially served drizzled with honey (or maple syrup if you're not doing GAPS). After starting GAPS/going grain free I was missing the pancake sausage muffins I had been making. But these totally make up for it 🙂  And I'm getting extra veggies and eggs in my diet to top it off. Love it. I will make these again for sure. They make a great breakfast. I just eat them cold with a little honey over top.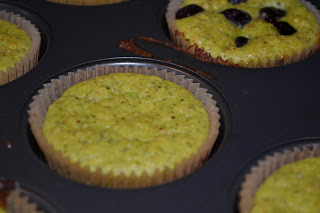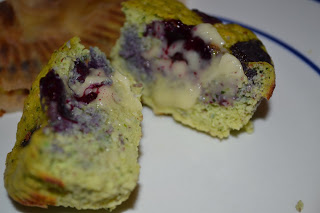 Grain Free Zucchini Muffins
~24 muffins
2 cups almond flour (I used half crispy almonds and half almond flour)
6 eggs
2-3 medium zucchini (about 2 cups shredded)
½ tsp. sea salt
4 Tbsp. tallow to grease muffin pan
(4 Tbsp. honey – optional – my add in)
(1 lb. cooked sausage – to make sausage zucchini muffins)
Puree all ingredients (except sausage if using) in a blender or food processor or shred zucchini with a grater and mix all ingredients with a fork. (Mix in cooked sausage) Pour batter into well greased muffin (or use paper liners) tins or a small loaf pan. Bake at 350 for 20-30 minutes, or until a knife inserted comes out clean.