This post may contain affiliate links which won't change your price but will share some commission.
Now that I'm doing GAPS I'm trying to get more creative with soups since eating chicken or beef and veggie soup all the time gets pretty boring. So recently I started doing pureed soups. Wish I would have done it sooner! So good. Last week I made cold beet soup. Yesterday I made beet, carrot and zucchini soup. I also made fresh pea soup for dinner. I used Ina Garten's recipe as my base for ratios. But since I can't have onions (for me or Abram) or dairy and don't have mint my recipe is just peas and broth 😛  This is about as easy as it gets. And we all liked it. Even Rebecca. She ate her whole bowl!! That is really saying something. She gags on split pea soup. And doesn't like many pureed foods. Definitely something I'll make again. It's a great, light summer soup. You could easily stir in some cooked chicken for more texture/to make it more filling. I added some avocado chunks to my bowl. Next time I think I'll try pureeing some avocados right in to make it even creamier. The other nice thing is that you can prep this ahead. I made it about an hour before dinner (when I had a few minutes while Abram was sleeping), then just heated it a little more right before serving. I served it with grilled cheese (for Rebecca and Justin) and grain free zucchini muffins. The muffins went really well with it. This would make a great cold soup as well. Make it when you have time and stick it in the fridge until you're ready to eat! I made a small batch…enough for our dinner and one leftover bowl.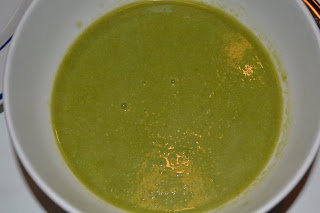 Fresh Pea Soup
2 cups homemade chicken broth
1 (16 oz.) bag organic frozen peas
salt, pepper and garlic powder to taste
Cook peas in broth in medium pan for about 5 minutes. Puree with an immersion blender in the pan or in a regular blender of food processor. Season to taste. Serve warm or cold. You may stir in sour cream or creme fraiche or top with avocado.