This post may contain affiliate links which won't change your price but will share some commission.
This week we need several prep ahead meals…which  usually means crockpot meals. By the third one I wanted to try something new. I decided to make potato soup. I've never made any kind of potato soup before. I checked A Year of Slow Cooking to see if Stephanie had a good one. I went with the first recipe I found for baked potato soup. It was super easy to make and tasted really good. I didn't eat it for dinner since I can't eat potatoes, but I did taste it…made me wish I could 🙂  Justin and Rebecca both really enjoyed it. I only made a half recipe. It still made quite a bit. I modified it slightly to our tastes/with what I had on hand. I also made a quick batch of homemade cream cheese to use in it instead of store bought. If you don't have any cream cheese or want it to be dairy free this would be just fine without it. Or you could substitute sour cream. I served the soup with crumbled bacon and shredded cheese.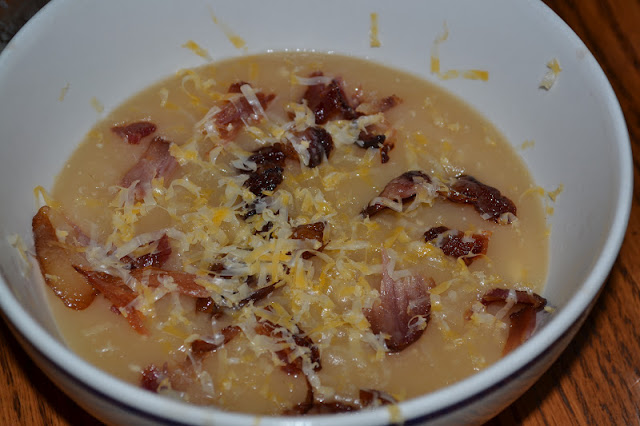 Crockpot Baked Potato Soup
2 lbs. potatoes, peeled and cut into chunks
1 small onion, roughly chopped
2 cups broth or water (if using water add extra seasoning)
sea salt and garlic powder to taste
1 cup homemade cream cheese (or 8 oz. pkg. of cream cheese)
Toppings: crumbled bacon, shredded cheese, sour cream, olives, chives
Place potatoes, onion, broth and seasoning in crockpot. Cook on low 8+ hours or on high 4+ hours (until potatoes are tender…cooking longer won't hurt anything). Mash or blend potatoes to desired consistency (I made it smooth with my immersion blender).
Add cream cheese. Stir. Cook on high about 30 minutes.
Pour into bowls and add toppings.