This post may contain affiliate links which won't change your price but will share some commission.
I subscribed to Every Day with Rachael Ray a while back…like years ago. I would often rip out recipes that looked good. I had a big pile of things I was going to try making…at some point. Well, last week I found that pile of recipes. I went through it and got rid of all but two of them 😛  I saved the two that I thought I would actually make and put them on the menu this week. I tried the first one last night. It's a simple casserole. And it's delicious!! Ham and peas casserole is like cornbread mixed into quiche. It almost reminds me of the flavor of creamed corn with the subtle sweetness from the cornbread. We all really enjoyed this casserole. It's great for breakfast, lunch or dinner. And the leftovers are great too (I had a delicious breakfast today :). Plus it's very easy to make (as long as you have ham and cornbread on hand…which we actually did this week!).
I didn't actually measure anything. I just used 2 leftover corn muffins and about a half cup of ham we had left from Sunday's dinner. I also used more eggs than the recipe called for. And in typical RR recipe fashion I had to modify the cooking time/temp. If I had cooked it at 350 for 40 minutes we would have been eating ham and pea soup for dinner 😛  I baked mine at 400 for about an hour. I'll post the original recipe with a few of my mods. Overall this was a great recipe. I plan to make it again.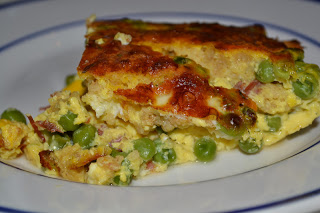 Ham and Peas Casserole
1 1/2 cups ham, cut into small pieces
7 oz. cornbread, cut into small cubes (about 2 cups)
1 cup frozen peas, thawed (I used more than this)
1 tsp. chopped fresh thyme (I used dried)
2 cups whole milk
3 eggs plus one yolk, lightly beaten (I used 3 whole eggs and 3 yolks)
salt
Heat oven to 350 (I baked mine at 400).
Butter a 9″ casserole dish. In a bowl toss the ham, cornbread, peas and thyme. Transfer to the baking dish.
In the same bowl combine the milk, eggs and salt. Pour into baking dish. Let stand 15 minutes.
Bake until the custard is just set in the center, 40-45 minutes (I baked mine for 1 hour).
Let stand 10 minutes before serving.