This post may contain affiliate links which won't change your price but will share some commission.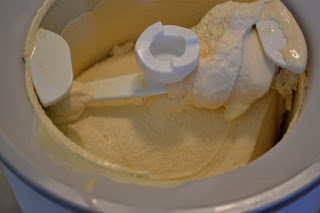 I love ice cream…if you hadn't noticed. Rebecca and I make ice cream almost weekly with our fresh, raw cream. This week we decided to try a new flavor – sea salt caramel. Oh My Goodness…this is awesome! One of my favorite flavors we've made by far. I still used my usual base recipe of cream, egg yolks, vanilla and maple syrup. But I added our homemade caramel sauce and a bit of sea salt. This is truly heaven in a bowl 🙂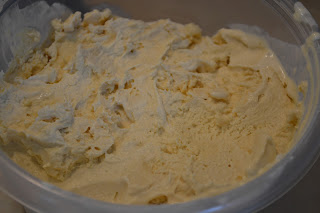 I never measure ingredients when I make ice cream. Rebecca and I prefer to taste as we go to get it just the way we want it 🙂 I'll do my best to give quantities. If you try it be sure to taste your batter before putting it in the mixer to be sure it's the way you want it. And a great tip I've learned with all of my ice cream experiments is to make the batter a little overly sweet. The ice cream loses some of its sweetness when it freezes.
I only took pictures right out of the mixer, before I put it in the freezer. So it looks a bit liquidy. Don't let that fool you. It is amazing! Even Abram devoured it. I had to cut him off so he wouldn't get a tummy ache 🙂 If you really want to go over the top drizzle some extra caramel sauce on top. It won't take much of this ice cream to satisfy your sweet tooth.
This post is linked to Fresh Bites Friday and Fight Back Friday and Fat Tuesday.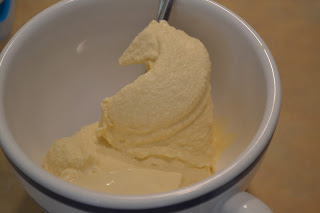 Sea Salt Caramel Ice Cream
3 cups cream
3 egg yolks (optional)
2 tsp. vanilla
1/4 cup maple syrup
3 Tbsp. honey
1/3 cup caramel sauce
1/2 – 1 1/2 tsp. sea salt
In a blender combine all ingredients (I use my Vitamix to mix ice cream batter). Taste. Adjust caramel and salt quantities to taste. Pour into ice cream maker (I use a Kitchen Aid attachment) and process (mine takes about 20 minutes). Store in a plastic or glass container in the freezer.