This post may contain affiliate links which won't change your price but will share some commission.
Happy Father's Day! I am blessed to have a wonderful father, a loving husband, a great FIL and a caring grandfather. Happy Father's Day to all of you. We have a little Father's Day gift today…some much needed rain 🙂  Hopefully it will bring a little break from the heat. We will also (hopefully) have another little gift tomorrow…a new niece! Praying all goes smoothly for my SIL!
Last week we didn't go many places, but we stayed plenty busy. I ended up making hot fudge, vanilla ice cream (with friends that came for a playdate), butterscotch, graham crackers/homemade deluxe grahams, chocolate ganache cake, strawberry rhubarb pie, mayo, strawberry cream pops, yogurt and froze 5 gallons of strawberries. We also had a fun extended family gathering yesterday.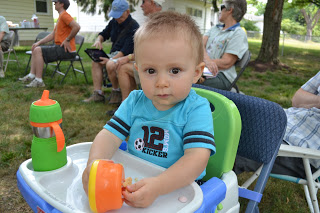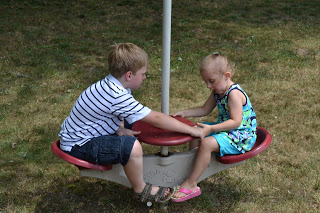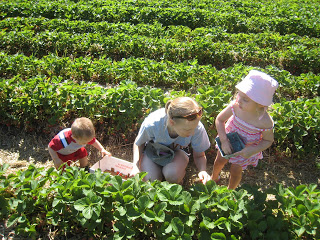 This week we'll keep busy. Today is church and celebrating Father's Day. We might go to Cone World as part of dinner since we got a Living Social Deal for $10 worth of food for $5. A special FD treat…if it's not too rainy this evening. Monday is milk pick up. And we also got Rebecca signed up for a new dance class. It's the same class she was supposed to have, but at a different day/time. She's pretty excited. Tuesday is Farmer's Market. Wednesday Meijer and co-op pick up. Saturday we will most likely be heading East to meet our new niece and hang out with  my brother and his family. Not sure if we'll add any other activities like the zoo, library or park.
Last week I did not get enough sleep. Abram is teething like crazy. He's up 2 or 3 times a night and nursing a lot. I also think he's going through a growth spurt both physically and mentally. Plus I got to bed late some nights trying to deal with all of the strawberries we picked. I can tell it really took its toll on me. Lack of sleep means the body can't rest/recover over night (especially when the sleep I do get is broken into little chunks). It also leads to craving carbs/sugar for energy…which leads to eating "junk" food (especially when we have so much of it around!). It's all homemade food, but I still overdo when I'm overtired and stressed. It also means lack of really nourishing food since I'm eating the sweet stuff instead. The end result? Major flare of inflammation, moody/impatient, acne flare, bloating/puffy, poor digestion, crave sugar. It is also not conducive to keeping up with a little boy that climbs on everything (learned how to climb onto the dining room chairs this week) and gets into everything and keeping Rebecca busy and stimulated enough. She needs new, exciting challenges every day (she's barely 4 and started reading full sentences last week!! She's learning how to spell so many words too.)  It's also tough to make good food choices right now with all of the delicious fresh produce available. I know it sounds strange to have that as a problem, but my body can only handle a small amount of fiber. I have a weakness for fresh sugar snap peas…and they were awesome this week! Sadly strawberries are one of the foods on my eat sparingly list. Any fruit or vegetable with edible seeds is very tough for me. Strawberries, especially, seem to cause me problems. And of course I've been eating them with 25 lbs. of freshly picked strawberries in the house! I need to get back on track, keep eating broth (I at least have been good about having that at least once a day), get better about taking my CLO (that seems to help reduce inflammation) and do what I can to get more sleep. I can't control how much Abram is up. But I will do my best to not make my life so busy that I can't get to bed on time. I'm hoping to do a bigger diet post update soon where I'll update the results (that even surprised me!) of my experiment from last week.
That being said, here's my tentative plan for kitchen work this week. If there is still rhubarb available I'd like to make strawberry rhubarb jam. I want to freeze a few more strawberries yet. Any other preserving will depend on what's at the market…maybe broccoli? I need to use my sourdough. I want to make a batch of basil pesto since we have lots of basil growing in our window box. We have lots of lettuce, so maybe we'll be eating some salads. I made a regular batch of pesto this morning. And if time allows I want to work on sewing. I finally got fabric cut out last week. And we'll be eating another Rebecca recipe this week. I will also likely be making food to bring to my brother/SIL this weekend. Here's what's on the menu for now.
—————
S (prep potato salad, make pesto, church, Father's Day, prep smoothies, make kefir)
  B – bread pudding, fruit salad
  L – grilled pork chops, potato salad, beans
  D – salad/fruit, Cone World? else TBD
M (prep dinner, clean, milk, dance, strain kefir)
  B – smoothies, TBD from freezer
  D – sweet and sour chicken meatballs and veg in the cp over zucchini ribbons
T (make basil pesto, skim cream, fm)
  B – pancakes
  D – pesto chicken over rice, peas
W (freeze strawberries, prep dinner, Meijer, co-op, make ice cream)
  B – smoothies, TBD from freezer
  D – (separate) – beef roast in cp w/ veggies
Th (make/can jam)
  B – sd english muffin w/ strawberry rhubarb jam and pb
  D – RR – pesto salad ("broccoli, carrots, beans and peas topped with basil pesto w/ cheese mixed in, topped with lettuce"), garlic toast, russian custard
F (make food for Sat.?)
  B – yogurt, granola, fruit
  D – scrambled or fried eggs, toast w/ strawberry rhubarb jam, TBD veg, strawberry milkshakes
S (clean, Flint?)
  B – tbd
  D – tbd